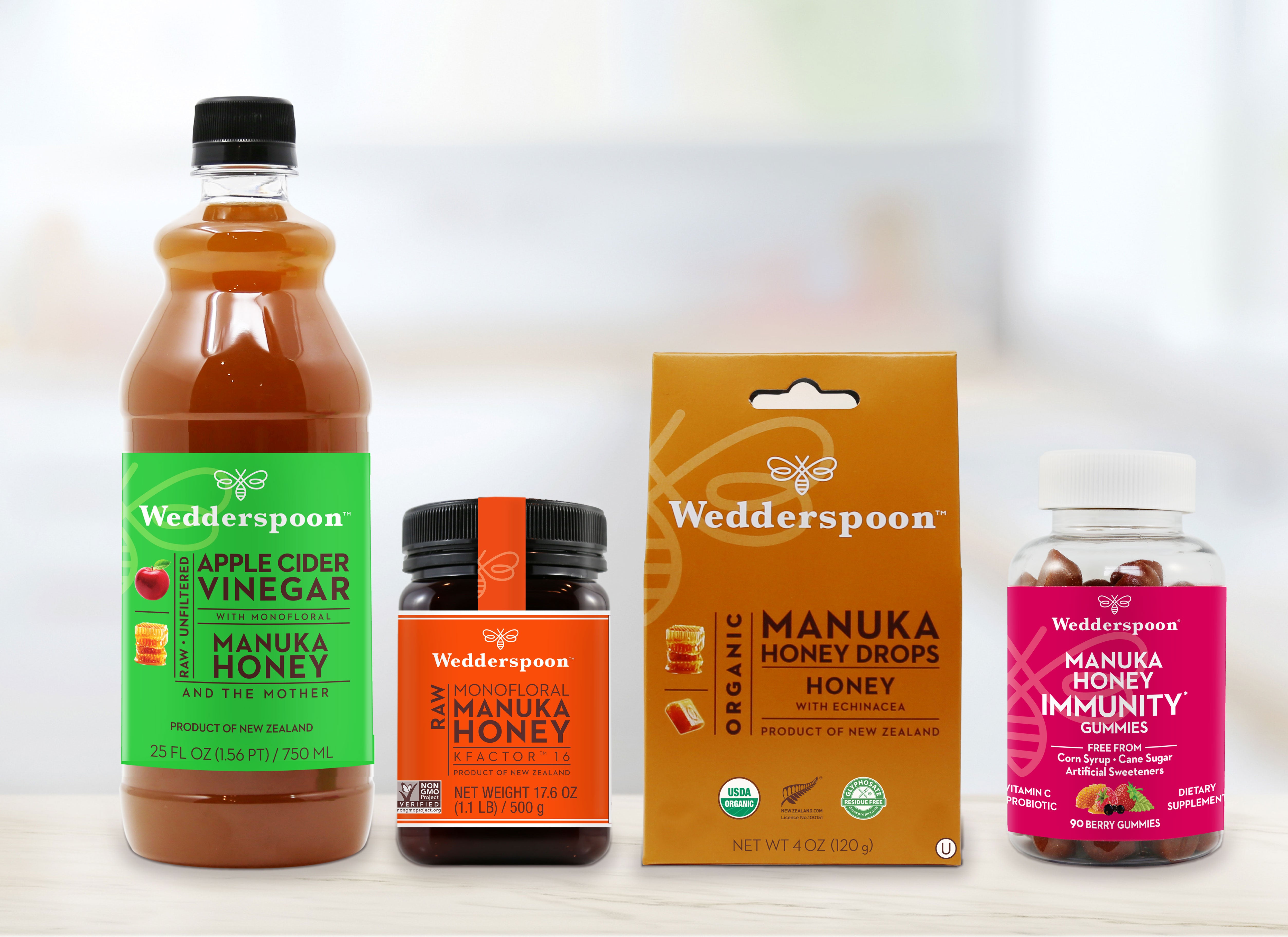 New Year, better ways to care for yourself and your family! Forget about a 'new you,' this year, let's focus on creating simple habits that improve our health, one daily routine at a time. Our newest bundle offers four of our favorite Manuka honey products, perfect to start your year out on the right foot. 
Raw Monofloral Manuka Honey in our best-selling 500g jar, your targeted wellness Manuka honey! Our favorite ways to use this pantry staple are with warm water and lemon in the morning, in home 'remedies', or straight off the teaspoon!  
Non-GMO Product Verified, Free of antibiotics, pesticides, and glyphosate. 
INGREDIENTS: RAW MONOFLORAL MANUKA HONEY

Manuka Honey Immunity Gummies are a fruit and Manuka-packed bite of daily wellness for the whole family. Crafted with authentic Manuka honey and vibrant whole fruits like apple and strawberry, plus Vitamin C. Proudly made without cane sugar, corn syrup, glucose or artificial sweeteners!
Berry Gummies support healthy immune and digestive function with DE111® Bacillus Subtilis Probiotic*. Combined with authentic Manuka Honey, elderberry juice, and 100% RDI whole-food vitamin C. 
Each bottle contains 10 servings of whole fruit! Safe for kids 4 and up. 
INGREDIENTS: APPLE JUICE CONCENTRATE, APPLE PUREE CONCENTRATE, RASPBERRY PUREE, MULTIFLORAL MANUKA HONEY, STRAWBERRY PUREE, PECTIN, RICE FLOUR, LEMON JUICE CONCENTRATE, ELDERBERRY JUICE CONCENTRATE, NATURAL FLAVOR, VEGETABLE FATS (COCONUT, RAPESEED), CARNAUBA WAX 3; *3 Gummies contain 5 billion CFU/mg at time of manufacture
Wedderspoon Apple Cider Vinegar with Manuka Honey is crafted in New Zealand from cold-pressed apples and naturally fermented to preserve the 'Mother' of Vinegar. We add Manuka and Beechwood Honeys for a slightly sweet, slightly tart taste. It's the perfect addition to daily tonics, energizing elixir, salad dressings, or to add a zesty kick of flavor to any dish. Crafted in New Zealand without heat or chemicals. Unpasteurized, unfiltered, and raw. The 'Mother' is a beneficial bacteria that naturally converts apple cider into vinegar.
INGREDIENTS: ORGANIC APPLE CIDER VINEGAR, RAW MANUKA HONEY, RAW BEECHWOOD HONEY

Our Organic Manuka Honey Drops in Honey with Echinacea flavor soothe throats with this time-tested recipe still crafted with care in small batches. Perfect for cold, flu and allergy season. Gluten-free, dairy-free, nut-free, and GMO-free. Each box contains approximately 20 drops. 
INGREDIENTS: ORGANIC CANE SUGAR, ORGANIC MANUKA HONEY, ORGANIC BROWN RICE SYRUP, ECHINACEA.