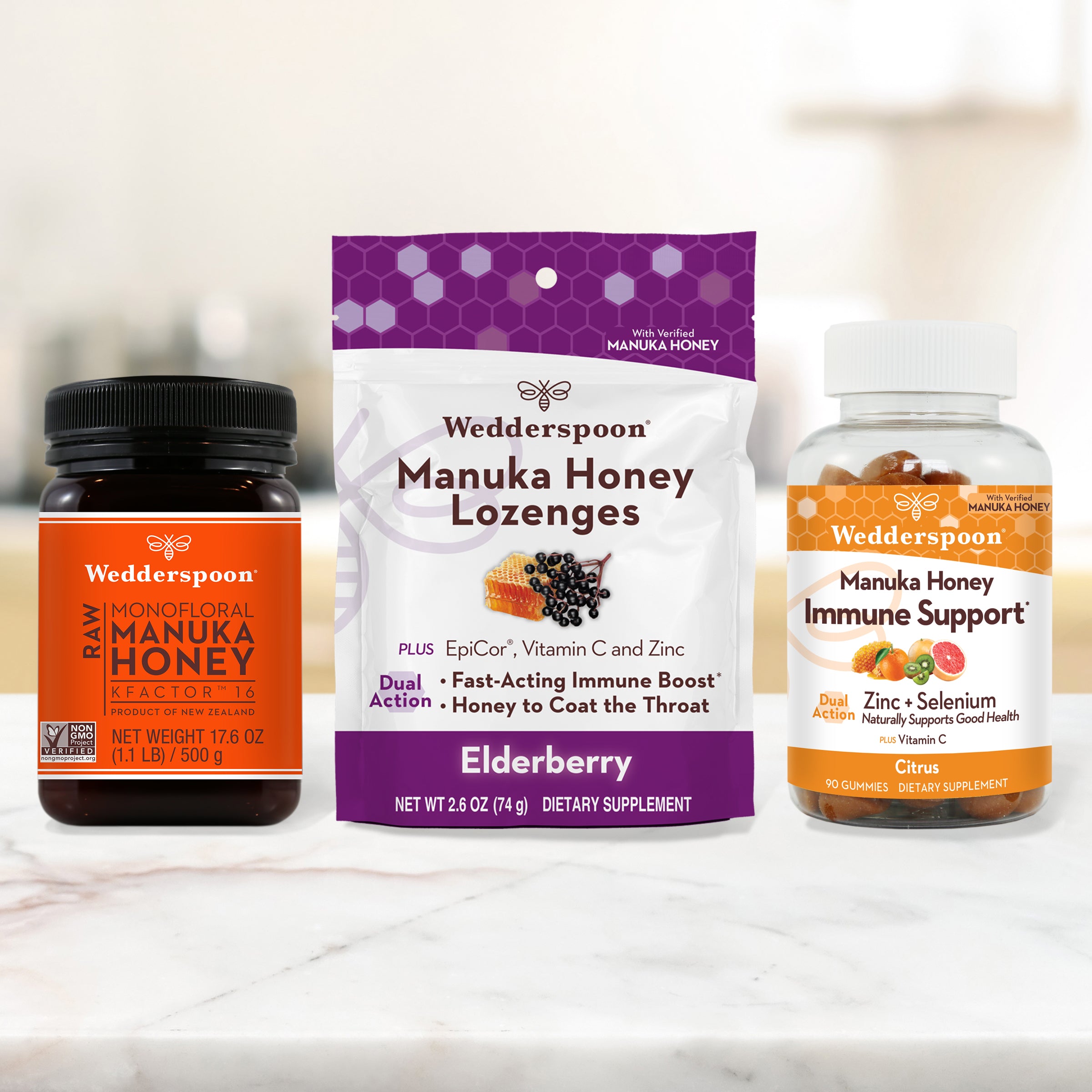 In need of an immune boost? Manuka honey has been used for ages to support the immune system so we've taken some of our favorite immune-supporting products and paired them in this unique bundle including: Monofloral Manuka Honey in 500g jar, Manuka Honey Immunity Lozenges in Elderberry, and Manuka Honey Immunity Gummies in Citrus. 
Raw Monofloral Manuka Honey in our best-selling 500g jar, your targeted wellness Manuka honey! Our favorite ways to use this pantry staple are with warm water and lemon in the morning, in home 'remedies', or straight off the teaspoon! Non-GMO Product Verified, Free of antibiotics, pesticides, and glyphosate. INGREDIENTS: RAW MONOFLORAL MANUKA HONEY 
Crafted with authentic Manuka honey and vibrant whole fruits like apple and kiwi, plus 100% RDI of Vitamin C. Proudly made without cane sugar, corn syrup, glucose or artificial sweeteners! Citrus flavor Gummies support a healthy immune system. Combined with  authentic Manuka honey, 100% RDI Vitamin C from organic Amla, and over 100% RDI of naturally-sourced minerals Zinc and Selenium. Each bottle contains 10 servings of whole fruit! Safe for kids 4 and up. INGREDIENTS: APPLE JUICE CONCENTRATE, APPLE PUREE CONCENTRATE, MULTIFLORAL MANUKA HONEY, KIWI PUREE, ORANGE JUICE CONCENTRATE, PECTIN, RICE FLOUR, NATURAL FLAVOR, GRAPEFRUIT JUICE CONCENTRATE, LEMON JUICE CONCENTRATE, VEGETABLE FATS (COCONUT, SUNFLOWER), CARNAUBA WAX
Wedderspoon Manuka Honey Lozenges deliver a powerful and fast-acting immune boost that is backed by science. Our lozenges utilize the beneficial nature of genuine New Zealand Manuka Honey to soothe and coat the throat while clinically-proven EpiCor boosts the immune system response within two hours. Perfect for your next flight, in-person meeting, or any time you need an immunity boost. INGREDIENTS: Organic Cane Sugar, Organic Rice Syrup, Multifloral Manuka Honey, Elderberry Extract, Elderberry Extract Powder, Epicor (dried yeast fermentate), Blue Raspberry Flavor, Powdered Citric Acid, Vitamin C, Zinc
Epicor - scientifically proven to strengthen the body's defenses and activate the immune response within two hours! 
Zinc - support immune health and aid in managing inflammation in the body. 
Manuka Honey - made with Wedderspoon's Non-GMO Project verified, genuine Manuka honey from New Zealand to calm the throat. 
Vitamin C - formulated with Vitamin C to support the immune system