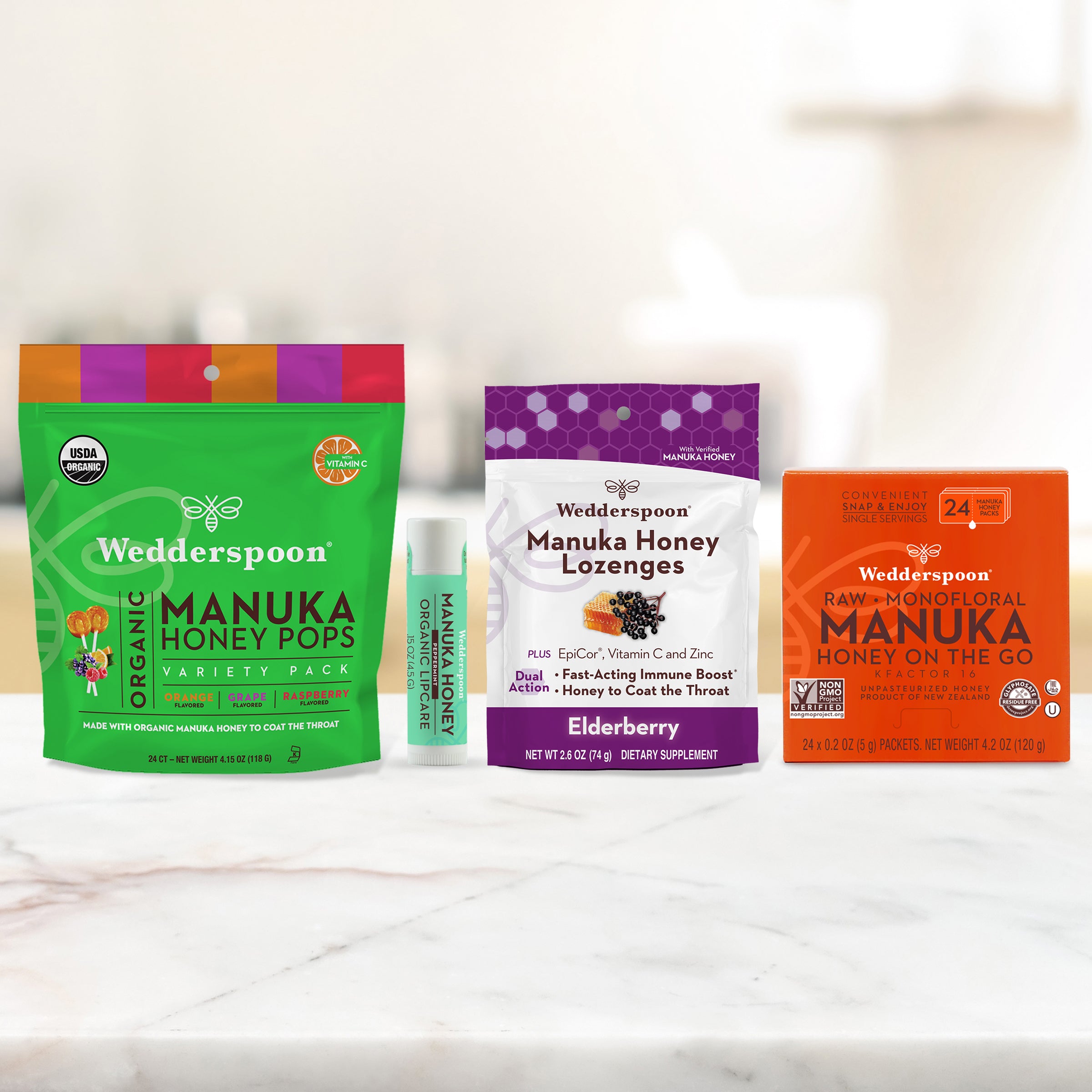 Get moving with this superfood bundle, perfect for families or anyone who wants to prioritize their wellness on the go! Featuring some of our best-selling and favorite Manuka honey products including: Raw Monofloral Manuka Honey On the Go packs, Organic Manuka Honey Pops, Organic Manuka Honey Lip Care, and our Organic Manuka Honey Immunity Lozenges with EpiCor.
Enjoy the benefits of our raw, delicious, Non-GMO project verified KFactor 16 Monofloral Manuka Honey in a convenient snap pack. This take-anywhere, travel-sized individual packs are the ideal choice for today's busy lifestyle. Packed in boxes of 24, Manuka On the Go packs are perfect for travel, adding a healthy treat to kids' lunches, or providing a boost of natural energy so you can buzz with vitality wherever your day leads you. Non-GMO Product Verified, Free of antibiotics, pesticides, and glyphosate. INGREDIENTS: RAW MONOFLORAL MANUKA HONEY
Our Organic Manuka Honey Props are a delicious, family-friendly treat made with simple ingredients (no junk!) including Organic Manuka Honey and Vitamin C. Contains zero artificial colors or preservatives. Each pack contains approximately 24 pops. INGREDIENTS: ORGANIC CANE SYRUP, ORGANIC MANUKA HONEY, ORGANIC BROWN RICE SYRUP, CITRIC ACID, ASCORBIC ACID AND ORGANIC NATURAL FLAVOR
Soothe your lips with the benefits of Organic Manuka Honey working in harmony with Organic Shea Butter, Organic Beeswax, and Organic Cocoa Butter. Flavors: Peppermint, Coconut Lime, Lavender Lemon. INGREDIENTS: *COCOS NUCIFERA (COCONUT) OIL, *MANUKA BEESWAX, *BUTYROSPERMUM PARKII (SHEA BUTTER) FRUIT, *THEOBROMA CACAO (COCOA) SEED BUTTER, *MANUKA HONEY, *ROSMARINUS OFFICINALIS (ROSEMARY) LEAF EXTRACT, TOCOPHEROL (VITAMIN E), *MENTHA PIPERITA (PEPPERMINT) OIL. *ORGANIC INGREDIENTS
Wedderspoon Manuka Honey Lozenges deliver a powerful and fast-acting immune boost that is backed by science. Our lozenges utilize the beneficial nature of genuine New Zealand Manuka Honey to soothe and coat the throat while clinically-proven EpiCor boosts the immune system response within two hours. Perfect for your next flight, in-person meeting, or any time you need an immunity boost. INGREDIENTS: Organic Cane Sugar, Organic Rice Syrup, Multifloral Manuka Honey, Elderberry Extract, Elderberry Extract Powder, Epicor (dried yeast fermentate), Blue Raspberry Flavor, Powdered Citric Acid, Vitamin C, Zinc
Epicor - scientifically proven to strengthen the body's defenses and activate the immune response within two hours! 
Zinc - support immune health and aid in managing inflammation in the body. 
Manuka Honey - made with Wedderspoon's Non-GMO Project verified, genuine Manuka honey from New Zealand to calm the throat. 
Vitamin C - formulated with Vitamin C to support the immune system