Coconut & Manuka Honey Tropical Bites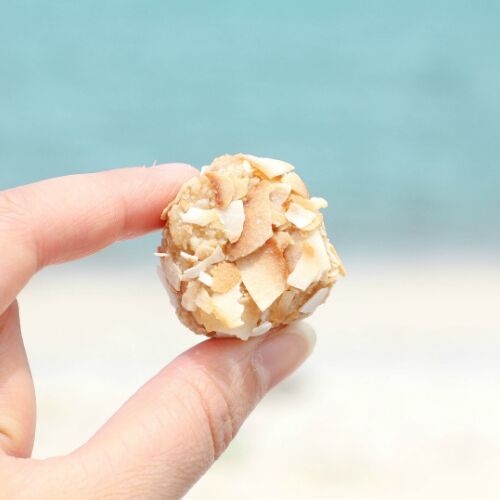 These raw superfood snacks are simple to make and are the perfect bitesize snack for the beach, the office, or anywhere in between. Made with Wedderspoon Raw Manuka Honey, cashews, dried pineapple, coconut and a few extras, you'll reach for this recipe again and again.
Ingredients:
80 g dried pineapple
4 oz coconut flakes (unsweetened), plus an extra 2 oz for toasting
2 scoops vanilla protein powder
230 g roasted cashews
4 tbsp Wedderspoon Manuka Honey
1/4 tsp vanilla extract
1/4 tsp sea salt
Directions:
Add cashews to food processor and grind until they're finely chopped (about 30 seconds).
Add in the coconut; continue to blend until the coconut is finely chopped as well.
Cut up pineapple into small chunks before adding to food processor.
Add vanilla, salt, protein powder and Manuka Honey.
Blend until a dough is formed.
Scoop out the dough and chill for about 10 minutes to allow it to firm.
Scoop about on tablespoon of dough out and roll it into a ball. Repeat for the remaining dough.
Preheat oven to 350 degrees Fahrenheit. Line a baking sheet with parchment paper.
Place remaining coconut shred on baking sheet and toast for one to two minutes or until it starts to brown. Set aside and allow it to cool.
Take the dough balls out of the fridge and one by one, roll in the toasted coconut until coated.
Pack up the covered dough balls into a cooler to take to the beach or a bbq, or store them in an airtight container in the fridge for up to one week.
Shopping in Canada? Your favorite Wedderspoon products, including the 
Manuka Honey
 used in this recipe, are available in our Canadian online store.