Carrot Cake Bites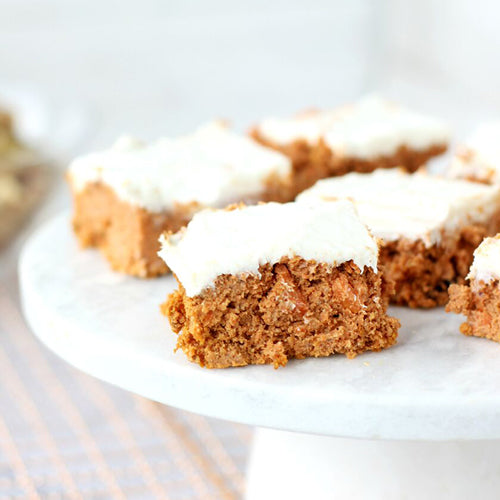 Ingredients:
Cake
20 oz carrot, finely grated in a food processor
6 oz plain Greek yogurt
1/4 almond butter, melted
1 scoop plant-based vanilla protein powder
4 tbsp coconut flour
2 tbsp Wedderspoon Manuka Honey
2 tbsp flax meal
1/4 cup walnuts, chopped
1/4 cup raisins
2 tbsp cinnamon
1 tsp ground ginger
1 tsp baking soda
1/4 tsp salt
Pinch of nutmeg
Frosting
6 oz Greek yogurt
2 oz cream cheese, room temperature
1 tbsp Wedderspoon Manuka Honey
1/4 tsp vanilla extract
---
Directions:
Preheat oven to 350°F and grease an 8×8 pan
Combine all ingredients, minus frosting ingredients into a bowl.
Mix well and add mixture to baking pan; bake for 30 to 35 minutes.
In a separate bowl, mix frosting ingredients.
Once the carrot cake has cooled, spread the frosting evenly and freeze for 30 minutes to set.
Slice into 16 pieces and enjoy!