Harvest Salad with Pumpkin Honey Dressing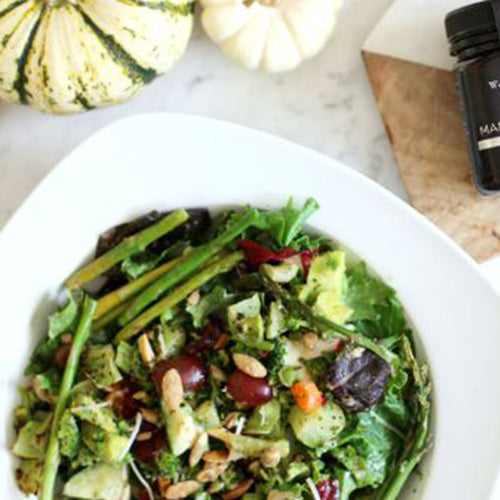 Ingredients:
Salad
1 cup kale
1 cup mixed greens
1/2 cup tomato
1/4 cup cucumber
1/4 cup carrot
1/2 cup broccoli
1/4 cup red grapes
1/4 cup cranberry sauce
1 teaspoon sunflower seeds
1 teaspoon toasted slivered almonds
1/4 cup avocado
1/4 cup asparagus
4 ounces chicken breast
Dressing
1/4 cup pumpkin puree
1/4 cup apple cider vinegar
2 tablespoons Wedderspoon Manuka Honey
1 teaspoon Dijon mustard
1 medium clove garlic, minced
1/2 teaspoon sea salt
1/8 teaspoon freshly ground black pepper
1/2 cup extra virgin olive oil
1 1/2 tablespoons fresh thyme leaves, coarsely chopped
1 tablespoon water
---
Directions:
Sauté broccoli + carrots with a bit of non-stick olive oil spray and garlic powder (this makes the broccoli slightly charged and crunchy)! Do the same for the asparagus. Assemble the rest of the salad ingredients in a large mixing bowl.
Mix all of the dressing ingredients together and serve over the Harvest salad.