Irish Soda Bread with Manuka Honey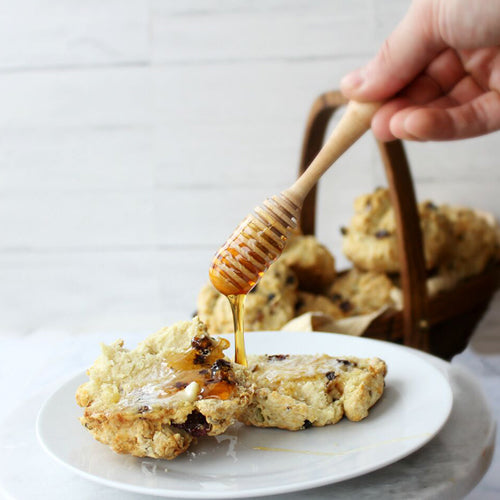 Ingredients:
1 1/2 cups non-dairy milk
2 tsp apple cider vinegar or lemon juice
4 cups all-purpose flour
2 tbsp Wedderspoon Manuka Honey
2 tsp baking soda
1 tsp caraway seeds
1 cup dried currants or raisins
1 tsp salt
4 tbsp Earth Balance Vegan Buttery Stick, melted
---
Directions:
Preheat oven to 350°F
Combine the milk with the vinegar or lemon juice and stir to make a plant-based buttermilk.
To a large mixing bowl, add the flour, baking soda, caraway seeds, currants or raisins, and salt. Whisk to combine. Slowly mix the buttermilk and 2 tablespoons of melted Earth Balance and Manuka Honey into the flour mixture, stirring with a wooden spoon until it is slightly sticky. You might not use all the buttermilk; you don't want it as wet as the better of many quick breads. Do not over-mix.
Shape the dough into a ball. Don't overwork or it will become tough.
Place the dough on a greased baking sheet. Use a serrated knife to score an X at the center of the dough approximately 1/4 inch deep.
Brush the dough with the remaining 2 tablespoons of melted Earth Balance.
Bake for 40 to 45 minutes, until bread is golden and cooked through. Use a toothpick to ensure it's completely cooked.
Let cool slightly before slicing.