Lavender Oat Shortbread Cookies Drizzled with Lemon Honey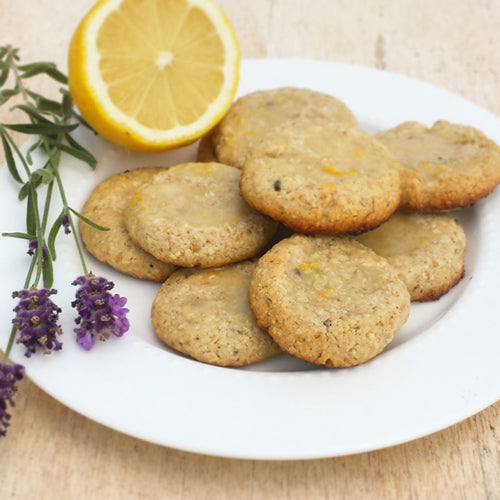 Ingredients:
1/2 cup raw cashews
1 1/4 cup rolled oats
1/4 cup coconut oil
1/4 cup + 1 heaping tablespoon of Wedderspoon Organic Rata honey
1 tsp salt
1 tablespoon or dried lavender or 1/2 tsp lavender extract
1/4 tsp lemon zest
1 tablespoon lemon juice
---
Directions:
Preheat oven to 350*
To make dough, blend cashews and oats in food processor until finely ground.
Add oil, 1/4 cup Wedderspoon Organic Rata Honey ,salt, and lavender. Process until dough forms.
Roll into desired shape — we made 15 little rounds.
Bake for 7-8 minutes or lightly golden brown at edges but almost uncooked in the middle. Allow cookies to cool and make the drizzle.
Simply scoop a dollop of the Wedderspoon Organic Rata Honey, add a pinch of lemon zest, and a squeeze of juice, and mix until smooth and slightly runny.
Drizzle this mixture on top of the cooled cookies and enjoy!