Pot of Gold Granola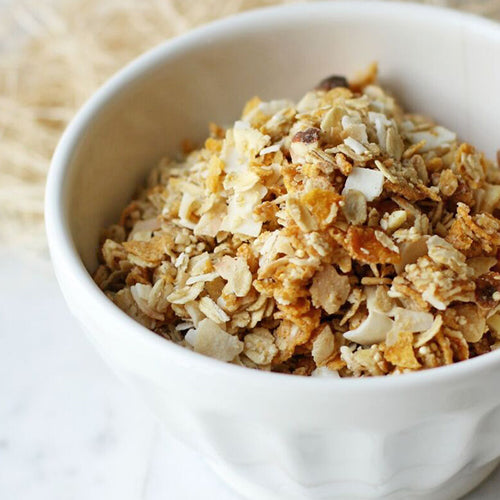 Ingredients:
1 cup rolled oats
1 cup shredded coconut flakes
2 cups organic corn flakes
3 tbsp Wedderspoon Kfactor 16 Manuka Honey
1 tbsp coconut oil (melted)
1/2 tsp vanilla extract
1/4 tsp sea salt
Optional: 1 cup cooked quinoa
Directions:
Preheat the oven to 325°F
Line a large baking sheet with parchment paper
In a large bowl, mix together dry ingredients, except coconut flakes
In a small bowl, melt coconut oil and honey for about 30 seconds in the microwave
Pour melted oil and honey over dry ingredients. Mix well until all oats are moistened
Transfer to the prepared baking sheet and bake for 15 minutes. Remove from the oven and stir
Return granola to the oven and bake for 10 minutes. Remove from the oven and stir in coconut flakes, bake for an additional 5 minutes. Allow to cool completely before enjoying.