Pumpkin Pie Truffles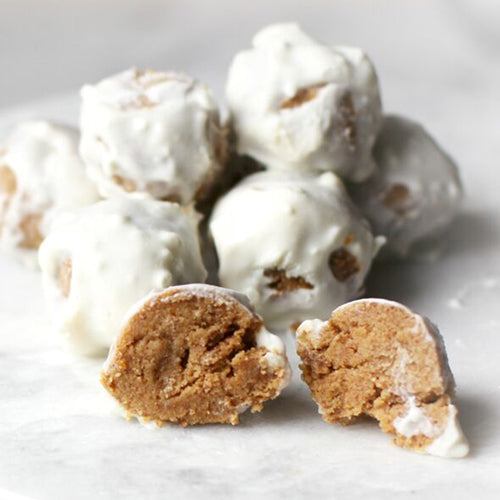 Ingredients:
Truffles
1 scoop protein powder (optional: omit and double the coconut flour)
66 g pumpkin purée
1/4 cup cashew or almond milk
56 g coconut flour
4 oz unsweetened apple sauce
2 tbsp Wedderspoon Manuka Honey
2 tbsp almond butter (melted)
1 tsp vanilla extract
1 tsp pumpkin pie spice
Pinch of Himalayan sea salt
Coating
5 oz cream cheese (at room temperature)
3 oz plain yogurt
14 g coconut oil (melted)
1 tbsp Stevia
1/4 tsp vanilla extract
Pinch of salt
Directions:
In a bowl, mix together the wet truffle ingredients until you have a smooth consistency. Slowly add in the coconut flour and protein powder. Add in remaining ingredients until you have a thick dough. Chill for two to three hours or freeze for 30 minutes.
Once dough has hardened, scoop out about a tablespoon of dough and roll into a ball. Once you have formed all of your truffles, freeze again for 10 to 15 minutes or until hard enough to dip in the coating while still keeping shape. These are supposed to be similar to the texture of pumpkin pie when eaten so it is best to prepare them in a solid state.
While you're waiting for the truffles to harden a bit more, using another bowl, mix together coating ingredients, minus the coconut oil.
Once the truffles are hard again, add coconut oil into coating mixture and mix well. Roll each truffle into the coating mixture and set aside on a plate. Continue this with the remaining dough.
Sprinkle with cinnamon, coconut sugar or drizzle with Wedderspoon Manuka Honey if you please.
Keep frozen until ready to serve, as these thaw very quickly.