Beach Sandwiches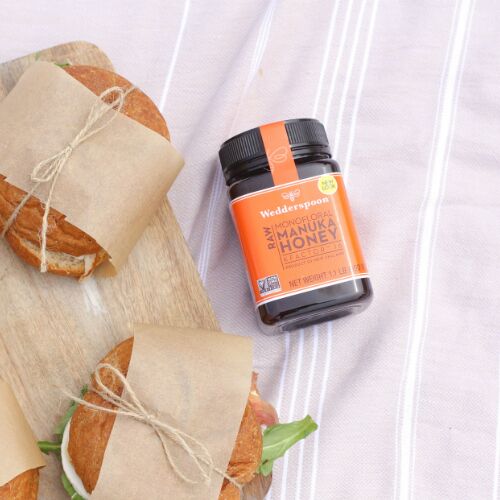 Our Beach Sandwich is filling and delicious. This recipe will take you just a few minutes to assemble, which leaves more time for you to spend on the beach! Pack up the cooler with our Aloha Bites as well for an extra afternoon snack. 
Ingredients:
4 honey wheat rolls
8 slices prosciutto
1 large mozzarella ball
4 tbsp mustard (we recommend Sir Kensington)
1 tbsp Wedderspoon Manuka Honey
4 tsp fig preserves
1/2 cup arugula
Directions:
Slice all of the rolls and set aside.
In a small bowl, mix together mustard and Manuka Honey.
Baste both sides of rolls with the mixture; sprinkle salt and pepper on top.
Add arugula to the bottom half of the rolls and then layer on a slice of mozzarella, about 1/2 inch thick.
Spread fix preserves on top of the mozzarella.
Top with two folded pieces of prosciutto.
Add the top bun.
Refrigerate until ready to serve.
Shopping in Canada? Your favorite Wedderspoon products, including the 
Manuka Honey
 used in this recipe, are available in our Canadian online store.