Cinnamon Spice Muffins with No-Bake Pecan Pie Topping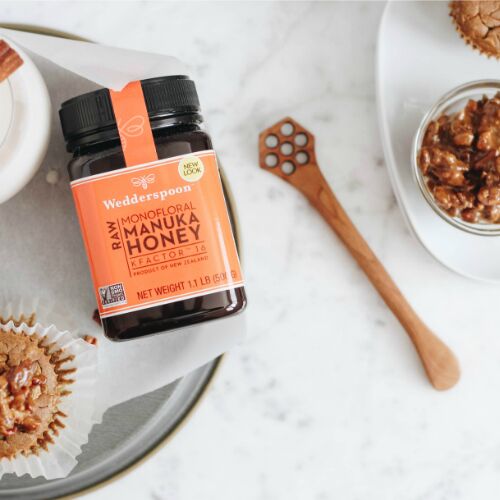 Get the delicious flavor of pecan pie without having to bake an actual pie! Our Cinnamon Spice Muffins with No-Bake Pecan Pie Topping are a delicious treat and the perfect addition to any fall dinner.
Ingredients:
Muffins
3 eggs
2 cups cassava flour or almond flour
1/2 cup coconut sugar
1/4 cup maple syrup
1/2 cup almond milk
1/4 cup melted butter or ghee
2 tsp vanilla extract
1/2 tsp ground cinnamon
1 tsp baking powder
1/2 tsp salt
Topping
2 tbsp

 

Wedderspoon Manuka Honey
1 tsp black strap molasses
2 tbsp melted butter
2 tbsp almond butter
1/2 tsp vanilla extract
1/2 cup chopped pecans
1/4 tsp salt
Directions:
Preheat oven to 350 degrees Fahrenheit. 
Combine flour, coconut sugar, cinnamon, baking powder and salt.
In a separate bowl, combine eggs, almond milk, maple syrup, butter and vanilla extract; mix well.
Fill muffin tin 3/4 of the way and bake for 25 minutes.
While the muffins bake, add all of the topping ingredients, except the pecans, into a microwave-safe bowl and heat for about 30 seconds, or until you can mix everything well. Stir in the pecans.
Let mixture set in the fridge so it has a chance to harden a bit.
Remove the muffins from the oven, top with the pecan pie topping mixture, and allow them to cool.