Coconut Caramel Cookies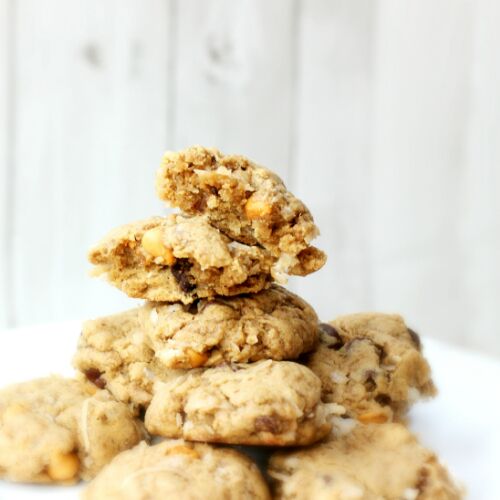 Fall is the season to enjoy everything caramel-flavored! Our Coconut Caramel Cookies incorporate that sweet, chewy flavor you love with a little twist: coconut. Take a bite into these delicious cookies, and don't forget to share! This recipe yields 12 cookies.
Ingredients:
1/4 cup brown rice flour
1/3 cup oat flour
1/4 cup tapioca flour
3 tbsp coconut sugar
1 tbsp

 

Wedderspoon Manuka Honey
1/4 tsp baking soda
1/4 tsp baking powder
1/4 cup almond butter; melted
1 egg
2 tbsp coconut oil; melted
1/2 tsp vanilla extract
1/4 cup unsweetened coconut flakes
2 tbsp chocolate chips
2 tbsp butterscotch chips
1/4 tsp salt
Directions:
Preheat oven to 350 degrees Fahrenheit.
Line a baking tray with parchment paper and spray with non stick spray.
In a large bowl, add dry ingredients together and mix well.
In a separate bowl, mix wet ingredients.
Add wet ingredients to dry ingredients and mix thoroughly.
use a spoon to scoop 1 to 1 1/2 tbsp of dough. Roll into a ball and place on tray.
Press dough down with your palm to flatten it slightly.
Repeat with remaining dough.
Bake for 9 to 11 minutes.