Gluten-Free Maple Banana Oatmeal Bake with Manuka Honey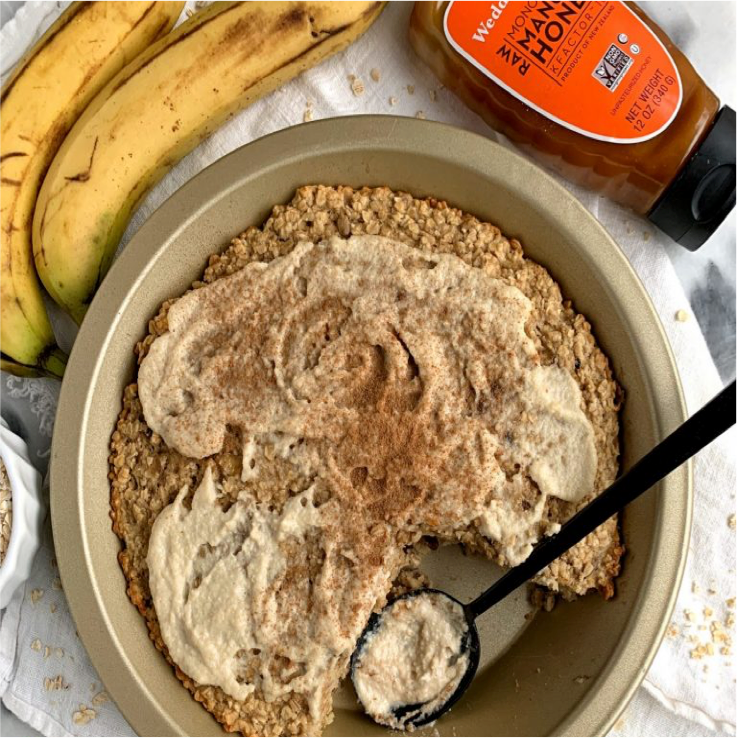 Warm, comforting, and full of flavors but no guilt, this delicious and filling breakfast will have you looking forward to morning (or any time of the day). 
To our vegan friends - fear not! This meal can easily be made egg-free.
Want to up your oatmeal game? Love using overripe bananas in your banana bread recipes? Those potassium-filled fruits function the same way in this dish. So pull those 'nanners out of the fridge or off the counter top, and use them up! 
Recipe courtesy of RachlMansfield.com.
Ingredients:
Oatmeal Bake
1 cup mashed banana
1 pasture-raised egg (or substitute flax egg)
1/3 cup cream nut butter
3 tbsp maple syrup
3 tbsp Wedderspoon Beechwood Honey
3/4 cup unsweetened non-dairy milk
1 tsp vanilla extract
3 cups rolled oats
1/2 tsp baking powder
Maple Honey Cream Glaze
3/4 cup raw cashews, soaked in boiling hot water for 10 minutes
5 tbsp non-dairy milk
1/2 tsp cinnamon

2 tbsp 

Wedderspoon Manuka Honey
1 tbsp maple syrup
1 tsp vanilla extract
Directions:
Preheat oven to 350 degree and grease a pie dish or 8x8 baking dish well.
In a large bowl, mix together banana, egg, nut butter, maple syrup, milk and vanilla extract.
Add the oats and baking power and mix again until well combined; then add to baking dish.
Bake in the oven for 20-25 minutes.
While the oatmeal bakes, make the glaze by straining the cashews and adding to a blender or food processor and blend with other ingredients until creamy.
Top oatmeal bake with the glaze and enjoy!
Shopping in Canada? Your favorite Wedderspoon products, including the Manuka Honey used in this recipe, are available in our Canadian online store.