Sweet and Fluffy Whipped Manuka Honey Matcha Latte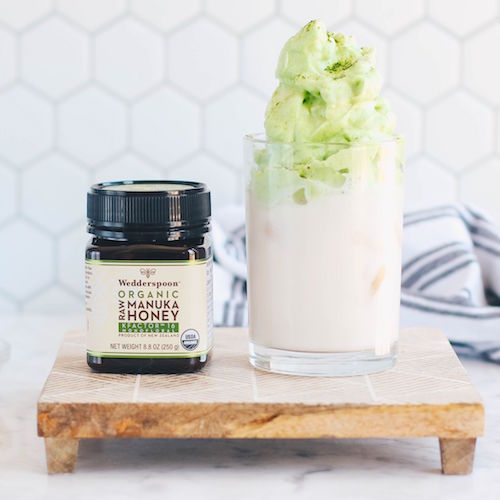 If you've scrolled through social media lately, you've likely seen Dalgona Coffee, or, whipped coffee, all over your feeds. This fluffy, frothy, coffee drink has gained immense popularity on the interwebs recently due to its fun, delicious appearance. It's also quite simple to make.
Made in its original form, this drink can be high in sugar and caffeine. So, we went to our Wedderspoon kitchen to try our hand at an alternative, better-for-you version and voila! After much testing and trial, we're here to introduce you to your newest breakfast-time companion, Whipped Manuka Honey Matcha Latte.
Our version of this whipped drink is just as easy to make as the original, but, without the refined sugar! If made with egg white, this drink is high in protein to boot! If made with aquafaba, it's vegetarian-friendly - the possibilities are endless! (Share your ideas with us in the comments, below!)
A quick scroll of the comment section on traditional whipped coffee recipes will leave you wondering if the taste and look of the drink is worth the calories, sugar, and impact this drink may have on your diet. Our version is one you can enjoy without the guilt! Sweetened with Wedderspoon Organic Raw Manuka Honey and flavored with ceremonial-grade matcha powder, this recipe calls for only the best, ingredients - straight from mother nature herself. 
We're excited to share this delicious drink with you! Whether it's served as a breakfast latte, as a mid-day treat, or an after-dinner drink, you can't go wrong with this recipe. 
At first glance, this concoction looks like a fancy (and expensive!) drink you would splurge on at your favorite coffee shop. But, after testing the recipe out for yourself, you'll see how truly quick and easy it is to make. Though it will only take you a few minutes to prepare, this is not a drink we recommend taking on-the-go. It's much too pretty to be jammed into a to-go mug. ;) We suggest serving it in your favorite glass filled with ice and drinking it on a nice, sunny day when you have time to savor every sip. 
Ingredients:
Directions:
Add egg white or aquafaba to your mixing bowl.
Use a hand mixer on medium-high and mix until the egg white or aquafaba has stiff peaks.
Add matcha powder and mix until well combined.
Next, add Wedderspoon Manuka Honey to the mixture, and continue to mix well.
Add ice and almond milk to a cup.
Froth the almond milk and add additional Manuka Honey if you'd like.
Top the almond milk with the whipped matcha foam.
Enjoy immediately!
The vibrant green color of the whipped matcha is eye catching, but it's the taste that will keep you coming back to this recipe! Let us know what you think of it in the comments section.
Looking for other pretty drink recipes to try? May we suggest our Lavender Smoothie? Pretty as can be, this bright purple smoothie is another great addition breakfast treat option. Our Orange Manuka Honey Iced Tea is a crowd-pleasing addition to any summertime meal. For other healthy and delicious food, drink and lifestyle recipes, visit the recipes section of our website. We add new recipes regularly so check back often!
And, don't forget to stock up on your favorite Wedderspoon Manuka Honey  so you can use it in your new favorite recipes. 
Shopping in Canada? Your favorite Wedderspoon products, including the Manuka Honey used in this recipe, are available in our Canadian online store.