Pomme Frites with Manuka-Based Secret Sauce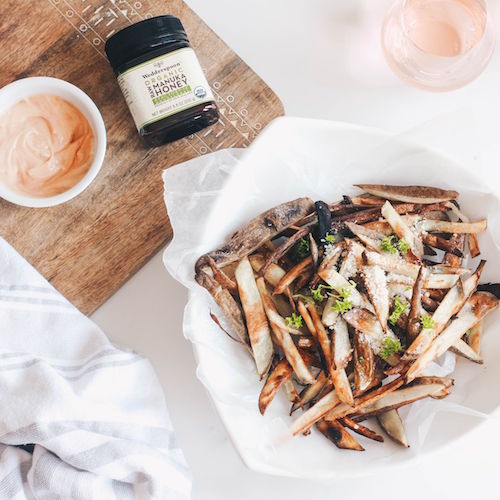 French fries are an American staple snack food and side dish. They're crispy, salty and borderline addicting. But, when made at fast food joints, they're covered in grease. They're unhealthy and may even leave you with a stomachache after indulging. 
Next time you're craving french fries, have a house full of kiddos or friends and family, try our Pomme Frites recipe. Our version of french fries are made from fresh ingredients. Making them at home allows you to control the salt as well, which is great for those who may be watching sodium intake.
Our Pomme Frites are just as crispy and delicious as the fries you'd get from a fast food chain. Though, we know everyone has their own personal preference of the crispiness level of fries, and, luckily, making them at home also enables to you control this and cook them just to your liking.
This recipe requires minimal ingredients and is quick and easy to make. Simple enough that you can include them as part of a pre-planned menu for a playdate or dinner, or, make them on the whim to fulfill a craving.
Topped with parmesan and parsley, these fries are not only healthier and more tasty than average, but they look fancier too! These are not your average take-out fries. Kids and adults, alike, will love these fries.
Step up your fry game by pairing Pomme Frites with a dip better than plain old ketchup. Mix up one of our Manuka Based Secret Sauces to serve with these. We suggest the Staple Sauce or the Parmesan Dip, but let us know which one you choose in the comments! Our Manuka Based Secret Sauces are equally as easy to make. They're sweet and savory, thanks to a variety of ingredients, including Wedderspoon Manuka Honey. 
Ingredients:
6 to 8 russet potatoes
1 tablespoon olive oil or cooking spray
1 teaspoon Himalayan sea salt
1 teaspoon freshly chopped parsley
1 tablespoon freshly grated parmesan 
Directions:
Preheat oven to 465 degrees Fahrenheit.
Slice the potatoes into small "fry" shapes - about 1/4 inch thick.
Line a baking tray with foil or parchment paper.
Use olive oil, or non-stick spray to coat the foil or parchment paper.
Place the sliced potatoes on the tray, being careful not to crowd the tray too much. There should be some space between the potato slices. Use two trays if you need to.
Top the potatoes with Himalayan sea salt and bake for 15 to 20 minutes.
Flip the potatoes and bake for another 15 to 20 minutes.
Place the fries in your serving bowl.
Top with freshly grated parmesan and parsley.
Add more salt for taste, if you'd like.
Serve with your favorite version of our Manuka-Based Secret Sauce. We suggest the Staple Sauce or the Parmesan Dip.
Planning to add our Pomme Frites to your summer BBQ menu? We've got several other great dishes to try too. Broccoli Salad with Avocado Dressing is a light and delicious summer side dish. You can't go wrong with pasta salad at a barbecue. Try our Grilled Veggie Pasta Salad at your next cookout. Make an at-home version of a takeout burger meal by pairing Pomme Frites with our Red, White and Blue Burgers with Manuka Honey Mustard. 
We encourage you to take a scroll through the Recipes section of our website, which is home to tons of delicious and healthy dishes, from sides to main courses. And, don't forget to stock up on your favorite Wedderspoon Manuka Honey  so you can use it in your new favorite recipes. 
Shopping in Canada? Your favorite Wedderspoon products, including the Manuka Honey used in this recipe, are available in our Canadian online store.