Summertime Bug Juice with Manuka Honey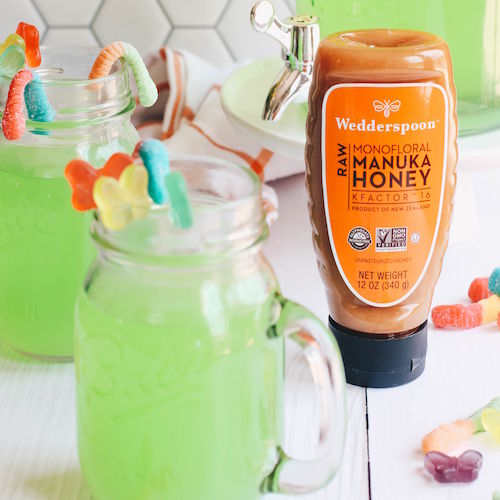 If you attended summer camp as a kid, you likely have memories of 'bug juice'! This brightly-colored, super sweet juice drink is often served with lunch or snacks, and is a total summer camp tradition! Thinking of bug juice probably brings back loads of fond memories. 
As an adult, it's fun to reminisce on old times and share memories with your children and family but as adults, we know better than to fill our bodies with refined sugary drinks. So, in the spirit of a better-for-you bit of nostalgia, we've created our newest recipe for Summertime Bug Juice that you can feel good about sharing with your fam.! 
Our version of bug juice is made with real fruit juice, no concentrates here! It's fun, bold color comes from our natural gelatin mix, too! This vibrant green color can also be captured by using natural green food coloring or even spirulina. 
Sweetened with Wedderspoon Manuka Honey, this drink is just sweet enough that the kids will love it, but not overwhelmingly so. Served in a clear glass and topped with sour gummy worms, this delectable treat will certainly be the highlight of your kids' day. Add a fun paper straw to the glass for some added cute!
Ingredients:
2 (3 ounce) packages of lime flavored gelatin mix (or natural green food coloring, or, 2 ounces spirulina)
1 quart of hot water
1 (46 ounce) can of pineapple juice
12 ounces orange juice
2 tablespoons

 

Wedderspoon Manuka Honey
4 1/2 cups cold water
2 liters zevia giner ale or club soda
Directions:
In a large sauce pan, dissolve the gelatin in 1 quart of hot water. (Please note, if you are using spirulina or food coloring, you do not need to use hot water.)
Allow this to cool.
When the gelatin has cooled off, pour it into a large bowl.
Stir in the pineapple juice, orange juice, Manuka Honey and 4 1/2 cups of cold water.
Next, pour in the ginger ale or club soda, just before serving.
Top with fun gummies or candy - we suggest sour gummy worms!
Serve your bug juice in a truly authentic-feeling environment by taking tips and tricks from our Camp Wedderspoon: Guide to At Home Summer Camp. We envision it being enjoyed outside at a picnic table or by the back yard sprinkler!
Bug Juice will pair nicely with our Pomme Frites with Manuka-Based Sauce, Raw Brownie Bites, and Peanut Butter and Jelly Bars. Together with one of these snack options, this pair will be quite the summer treat for your kids. Let us know in the comment section what snack food you enjoy with your Bug Juice!
We encourage you to take a scroll through the Recipes section of our website, which is home to tons of delicious and healthy dishes, from sides to main courses. And, don't forget to stock up on your favorite Wedderspoon Manuka Honey  so you can use it in your new favorite recipes. 
Shopping in Canada? Your favorite Wedderspoon products, including the Manuka Honey used in this recipe, are available in our Canadian online store.