Summer Mango Salsa with Manuka Honey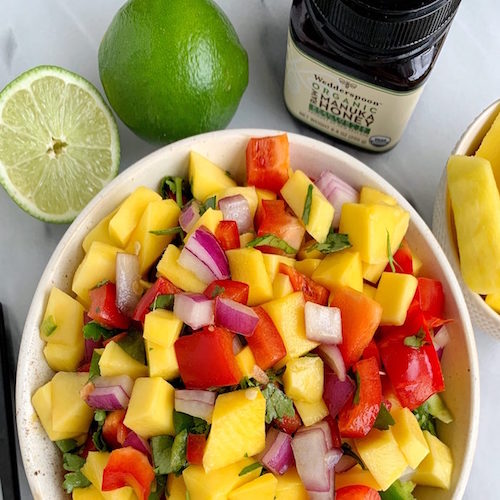 Summer is not over just yet! There is still plenty of time to enjoy the warm weather and tastes of summer. This Mango Salsa recipe via Rachlmansfield.com is giving us all the summer feels! Filled with sweet and tangy flavors, it's deliciously refreshing and the perfect hot, summer day snack. When it comes to this salsa, the chunkier, the better...trust us!
This salsa is certainly not like the average mango or citrus flavored store-bought, jarred salsa you find on the shelves at the grocery store - it's fresh, juicy and delicious. Fresh mango is the key to this recipe. This Mango Salsa has just the right amount of spice, which is balanced out with Manuka Honey. Together, the flavors are mouth watering and will have you going back for more, scoop after scoop!
Not only is it delicious, but this salsa is incredibly easy to make! With no blending required, it's truly something you can whip up quickly for a last minute picnic or porch hangout. This is going to be one of those recipes you look forward to making summer after summer, so enjoy it while you can before we move into pumpkin season! 
Mango Salsa can obviously be enjoyed in the most classic way–with chips–but it can also be used as a topping, or mixed into fish tacos. We suggest making extra because you'll definitely find uses for the leftovers! Though making the initial batch of Mango Salsa is very easy, using the leftovers is even easier! Just take the bowl out of the fridge, give it a good stir, and it's ready to serve!
This salsa would also make a great host gift. If you are attending a socially distanced barbecue or other event, consider mixing up this recipe and gifting it to the host in a cute jar. Pair the salsa with chips and other snacks to enjoy it with, and maybe even a jar of Wedderspoon Manuka Honey so the host can replicate the recipe, and others, if they'd like. 
Ingredients:
1 tablespoon

 

Wedderspoon Manuka Honey 
2 cups chopped mango
1 small jalapeno, chopped
1 large red pepper, chopped
1/4 cup red onion, chopped
1/4 cup cilantro, chopped
1 lime
1 tablespoon avocado oil
Sea salt and black pepper, to taste
Chips for serving
Directions:
Add the mango, jalapeno, pepper, onion and cilantro to a large bowl and mix.
Drizzle the avocado oil on top and squeeze the juice from the lime onto the mixture.
Add in the Wedderspoon Manuka Honey, salt and pepper and mix well.
Serve immediately with your favorite chips, or chill in the fridge until ready to serve.
While you're enjoying this summer snack, why not add a few more summertime favorites to the menu? Our Grilled Veggie Pasta Salad is flavorful and a great barbecue side dish. Check out our Recipes page for healthy and delicious recipes for all seasons. We add new recipes regularly so check back often!
Wedderspoon Manuka Honey is pantry staple, so make sure you don't run out! Stock up on your favorites.
Shopping in Canada? Your favorite Wedderspoon products, including the Manuka Honey used in this recipe, are available in our Canadian online store.