Grilled Veggie Pasta Salad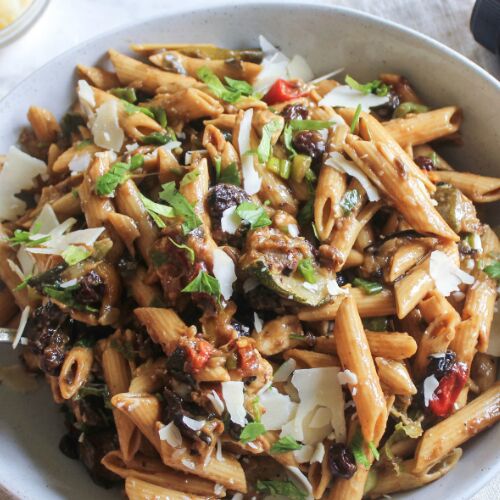 This fresh and flavorful pasta salad recipe is sure to be a hit at any summer barbecue or party. 
Ingredients:
1 box chickpea penne

1 large mozzarella ball, cubed

1/4 cup shaved parmesan

2 zucchinis cut into bite-sized chunks

1 red onion

2 cloves of garlic

1 pint of baby portobellos

1/4 cup roasted red peppers

1/4 cup raisins

Juice of one lemon
1/4 cup balsamic vinegar
3 tbsp olive oil, and more for cooking

1 tbsp

Wedderspoon Manuka Honey
1 tbsp fresh basil
1 tbsp fresh parsley
Salt and pepper, for taste
Directions:
Either grille the zucchini and mushrooms or roast them on lined, grated baking tray (don't forget non-stick spray!). If roasting, roast at 450 degrees Fahrenheit for 20 to 25 minutes. 
Follow instructions on the pasta box to appropriate cook penne.
When pasta is finished, add it to a large bowl. Drizzle with 1 tbsp of olive oil and a pinch of salt.
Add roasted veggies, red peppers, mozzarella and raisins. Toss well.
Slice onion and chop garlic. 
Heat skillet and add 1 tbsp of olive oil. Add garlic and onion to skillet, along with salt and pepper. Cook for 3 to 4 minutes.
When the onions have softened, add balsamic. Stir occasionally. As mixture begins to bubble and reduce to a syrup, remove from heat and pour over pasta salad. Toss the pasta to combine. 
Shopping in Canada? Your favorite Wedderspoon products, including the 
Manuka Honey
 used in this recipe, are available in our Canadian online store.