All-Natural Homemade Cherry Gummies with Manuka Honey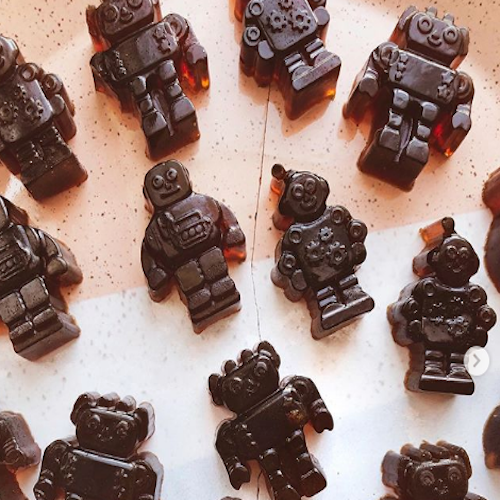 Gummy candies are arguably one of the most fun types of candies because they come in so many varieties - different colors, different shapes, different flavors, there possibilities are endless! Each holiday is accompanied by a new variety of themed gummy candies lining the aisles of the candy section in stores. When shopping with your kids, you likely strategically try to avoid these aisles for a reason - no one likes a mid-grocery store meltdown. 
Unfortunately, traditional gummy candies that you find in stores are filled with a lot of sugar and additional not-so-clean ingredients. But kiddos will inevitably ask for treats, so what if we told you that you could make your own gummies at home, using natural ingredients that you won't feel guilty giving your kids? And, if we told you that the recipe only takes about 15 minutes to make?
Well look no further - we are so excited to share this unbelievably easy and tasty recipe for All-Natural Homemade Cherry Gummies with Manuka Honey with you! The recipe is courtesy of Jess Asaro of @ThymewithJess on Instagram. This recipe for tart cherry gummies calls for just a few ingredients - tart cherry juice, Wedderspoon Apple Cider Vinegar with Manuka Honey, Wedderspoon Manuka Honey, and gelatin. These gummies can be customized to look exactly the way you or your children want them to. Head to a candy/baking supply store, or search online, for fun and festive molds. Pumpkin or skeleton molds would be a great option for Halloween-themed gummies. Or, perhaps you can find molds of your child's favorite movie or character! Frozen, anyone?
These gummies are perfectly sweet and tart with a chewy texture that makes them fun to eat (for kids and grown-ups alike). 
The recipe has minimal steps and only takes a few minutes to make. You can enjoy the gummies right away, store them to snack on in the future, or, bag them up to gift to friends and family. 
Ingredients:
3/4 cup tart cherry juice (no sugar added)

2 tablespoons 

Wedderspoon Manuka Honey 
3.4 tablespoons pasture-raised gelatin
Directions:
Heat the cherry juice and Apple Cider Vinegar on medium-high. 
Reduce the heat to medium right before the mixture begins to boil and mix in the Manuka Honey, stirring gently.
Slowly add the gelatin into the mixture a little bit at a time, whisking until it is completely dissolved. 
Pour mixture into the molds of your choice.
Place in the refrigerator for about 20 minutes so solidify. 
Enjoy immediately or store in the fridge. 
The cherry juice used in this recipe makes the gummies vibrantly red, but, you could consider playing around with food coloring to change the color of the gummies too. 
Candy is so much more enjoyable when you know it's made with natural ingredients and you don't feel the need to county every gram of sugar or other unhealthy ingredients. Our Manuka Honey Peanut Butter Cups are another yummy homemade candy treat we suggest you try this Halloween Season. 
Wedderspoon Manuka Honey is pantry staple and can be used to make so many great recipes, so make sure you don't run out! Stock up on your favorites.
Shopping in Canada? Your favorite Wedderspoon products, including the Manuka Honey used in this recipe, are available in our Canadian online store.