Healthy Homemade Kit Kat Bars with Manuka Honey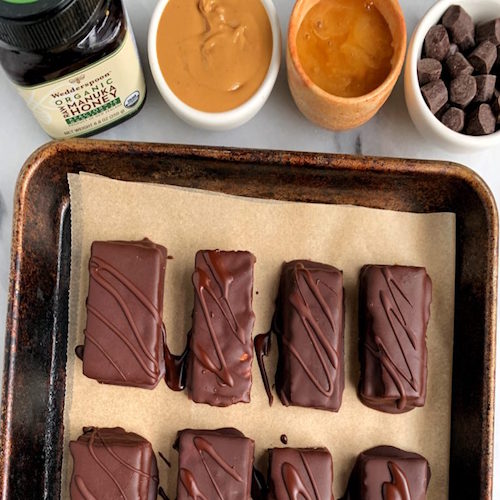 While you surely do not want to deprive your children (or yourself!) from the fun that is Halloween, it's smart to think strategically and plan ahead so that you can ensure they are enjoying treats that are equally yummy and healthy(-ish).
We know it's tempting to buy store-bought candy and treats because it just seems easier than making your own, but, we're here to tell you that homemade does not have to be complicated!
This Healthy Homemade Kit Kat Bars with Manuka Honey was created by Rachel Mansfield of RachlMansfield.com and we're so glad she's shared it! This healthier twist on a classic candy is incredibly quick and easy to make. It calls for just four ingredients and only takes about 15 minutes to make (not including setting time). 
These 'Kit Kat' lookalikes achieve the same chocolaty, peanut-buttery taste you crave when you think of the real thing. You're probably already thinking about the flaky, crunchy goodness you taste when you rip open a Kit Kat's red plastic packaging, right? This recipe uses graham crackers, which creates the same tasty, crispy crunch. The inside of this candy bar is filled with peanut butter and Wedderspoon Manuka Honey, which are the ultimate pair. Coated in dark chocolate, it's rich, creamy, crunchy and sweet - all in one!
Make these treats for your kids and family, or yourself...we don't judge! They keep well in the fridge and freezer so you can make a large batch to enjoy throughout the month. 
School and workplace Halloween parties are likely not taking place this year. However, if you are hosting or attending a small family or friends Halloween gathering, these would make a great treat to share. Wrap them up, a few to a package, in a cute themed candy bag or box to keep germ spread to a minimum. 
Ingredients:
10 full sleeves/rectangles of graham crackers (or, about 20 graham cracker squares)
1/3 cup creamy peanut butter (or any nut butter)
1/4 cup

 

Wedderspoon Manuka Honey 
1 cup dark chocolate chips
Directions:
Slice each graham cracker in half (if using the rectangle shape), and then into half again. This will create 4 smaller rectangles per graham cracker sleeve. 
Repeat step #1 for all the graham crackers.
Spread a layer of Manuka Honey on one piece of graham cracker and then add another piece on top. Spread the peanut (or nut) butter and gently press down so the three pieces stick together. 
Continue step #3 with all graham cracker pieces. 
Add all stacked pieces to a lined baking sheet, tray or plate and place it in the fridge to set for a few minutes.
While they are setting in the fridge, begin melting the dark chocolate chips in the microwave or a saucepan.
Gently dip each 'kit kat' into the melted chocolate, coating completely. 
Place each chocolate dipped 'kit kat' onto the tray or plate.
Drizzle any extra chocolate on top and let them set in the fridge for at least one hour before enjoying.
While these are great served at room temperature, they should be stored in the fridge to maintain freshness and ensure that they don't melt. Consider freezing them and enjoying them frozen for a super delicious treat. 
Feel like sharing? These 'Kit Kats' can be boxed or bagged up and shared with friends and neighbors. At a time like this, a kind gesture like sharing homemade treats goes a long way!
If you're in the mood to make more fall treats, may we suggest Pumpkin Spice Donuts, Raw Apple Pie Energy Bites, or Plant-Based Protein Snickers Bars? They are all equally delicious and will get you into that Fall mood you may be struggling to feel this year. 
Wedderspoon Manuka Honey is pantry staple, so make sure you don't run out! Stock up on your favorites.
Shopping in Canada? Your favorite Wedderspoon products, including the Manuka Honey used in this recipe, are available in our Canadian online store.