Camp Wedderspoon: A Guide to At Home Summer Camp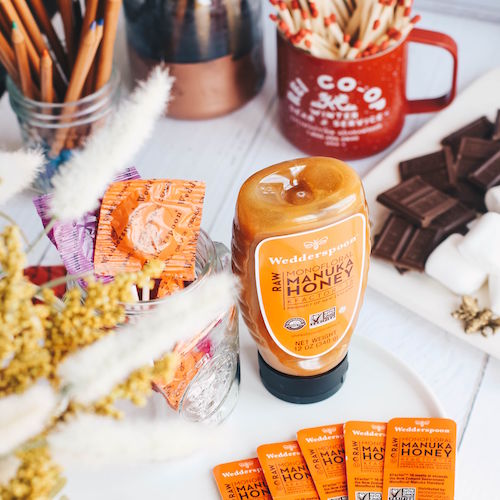 Summer 2020 is going to be a bit (or a lot!) different than your average summer. Unfortunately, the COVID-19 pandemic, which has already impacted several months of our lives so far, is far from over. There are many aspects of life that require change and modification, and rather than dwelling on cancelled our changed plans, the best thing to do is make the most of the situation! 
Sure, your summer vacation may have been cancelled, and perhaps your children's summer camp has been called off, or, gone virtual - we get it. We're all doing our best to accommodate our constantly changing lives right now! That's why we've put together this Guide to At-Home Summer Camp. We hope you find our suggestions fun, entertaining and simple enough to actually execute at home with your kiddos!
Maintain a Schedule
Whether you plan to follow a formal "camp schedule" for a week, a month, the entire summer, or, on scattered days here and there, it's ideal to put together a routine. This will help with your own sanity and organization, and will also give your kids an idea of what everyone can look forward to!
Consider creating or downloading a calendar template and filling it in with your "camp" plans. To make this feel really authentic, we suggest printing it out and pinning it to the fridge, the same way the weekly schedule would be posted on a bulletin board at a real camp.
Get A Breath of Fresh Air and Sunshine
Perhaps the most important thing you can do, for your kids and yourself, is to make sure you spend time outdoors. Outdoor time also gives your whole squad an opportunity to get some exercise!
Cool Off
Consider investing in a sprinkler, (just like the kind we had as kids!) or even an inflatable pool for a quick and easy cool down. Never underestimate how much fun a quick hose cool off is, both for kiddos and grownups alike. 
Enjoy Nature 
Visits to local playgrounds, state parks and arboretums, if your county permits it, are great ways to enjoy sunshine and fresh air. Better yet, most are free or low cost options to enjoy time outside. 
Outdoor Fun and Games
Take playtime outside by creating outdoor scavenger hunts, playing yard games (here's look at you, TV tag!), or even having a board game day out on the porch.
Take Field Trips
Field trips are one of the most anticipated aspects of summer camp. Consider planning a few day trips throughout the next couple of months. Depending on what is open and permitted where you live, you can plan to go to a zoo, an outdoor children's concert, a theme park, a state or national park or the beach. Just don't forget your masks, hand sanitizer and snacks, like Wedderspoon Organic Manuka Honey Pops and Manuka Honey on the Go!
An overnight camping experience at a local campground, or, even in a tent pitched in your own backyard, is easy and fun - plus we promise you'll make some of the best memories your kids will remember forever. 
Do Arts and Crafts
A classic part of summer camp, arts and crafts time, allows kids to get creative and use their imagination in more tangible ways! From tie dye, to spin art, ceramics and beading, the internet is filled with craft ideas for every level from beginner to expert, and simple to messy! When running an at home summer camp, Pinterest will become your new best friend, if it isn't already! Designating one specific day each week to be an arts and crafts day is a great way to get the kids looking forward to their new routine. 
Continuing Education
Dedicating regular time to educational activities can help kiddos retain information they've already learned, teach them new things, and make the transition back to school in the fall easier (whatever that looks like where you live)!
Of course you can help continue their education through age/grade level based activity and assignment books, but, you can also get creative with it - we suggest trying out science experiments at home, creating a family book club, and making games out of math and history lessons. 
Snacktime
Make snack time interactive. What better time to teach your children cooking skills than while making camp lunches and snacks?
Consider theme weeks - try cuisine from different cultures each week to keep things interesting and expand your children's taste buds. This can also be an opportunity for a little lesson on world geography, history and cultures. 
Add traditional summer camp treats into your at home camp menu rotation for an authentic feel. It will also make it a truly nostalgic experience for you! Our Summertime Bug Juice with Manuka Honey is a vibrantly colored, iced drink served best outdoors. 
With more time at home together, you have more time to try new recipes in the kitchen together. We have loads of healthy recipes for all sorts of foods, drinks and treats on the Recipes section of our website, which is updated regularly. 
Socialize
Though you are probably keeping your kids apart from their friends, they most likely miss seeing them and having the opportunity to socialize. Interacting with others is an important factor in children's growth and development. Coordinate with the parents of your children's friends to set up virtual play dates or lunch dates when you can. Even just a few minutes of interaction with their friends will really make their day and help ease feelings of loneliness. Playing online games together is another way for your kids to have that social playtime they crave!
Independent Activities to Keep the Kids Occupied
It's a good idea to have a few independent activities up your sleeve to keep the kids occupied when you need a moment to yourself. Whether it's simple crafts they can manage on their own, watching a movie, or playing with toys, let's face it, after spending all this time together - you will be more than willing to let the kids have some independent playtime, which means free time for you!
We hope you have a safe, fun and memorable summer! All the best from the Wedderspoon teams in Pennsylvania, Vancouver, and New Zealand!