Our Favorite Uses for Monofloral and Multifloral Manuka Honey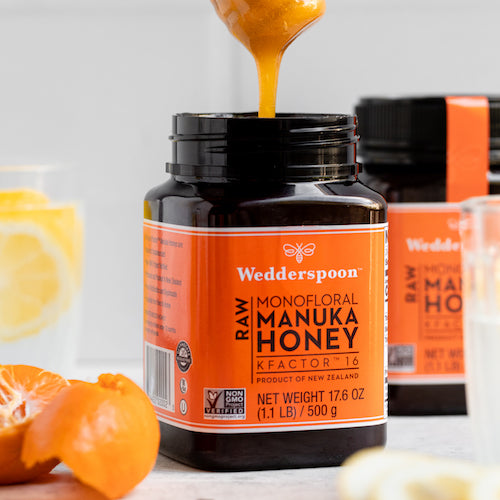 All Manuka honey is the same, right? Nope, not quite!
The Manuka tree, a relative to the Tea Tree, grows abundantly throughout New Zealand, often in extremely rugged terrain. Our beekeeping partners scout where Manuka naturally grows wild, then carefully place hives in these strategic areas. Nestled between the crystal waters of Lake Wakatipu and the majestic glaciers of Mt. Cook, colorful wooden hives house hundreds of colonies of happy Wedderspoon bees. There, in the lush South island hills, the honeybees then feast off the nectar of the wild Manuka blossoms, free-range-style, and return to their hives to produce our rare and raw, golden Manuka honey! 
After being harvested by our master beekeepers, Wedderspoon Manuka Honey is creamed using a raw creaming process to maintain all of the occurring beneficial wellness properties inherent in this unique and functional food. We at Wedderspoon take pride in harvesting, packaging, and labeling all of our Manuka Honey in New Zealand to ensure we are meeting the highest standards for quality and authenticity. 
Before any jar of Wedderspoon Manuka Honey is packaged or shipped to you, it undergoes independent laboratory testing to determine that it meets or exceeds the strict scientific standards for genuine Manuka Honey, as established by the New Zealand government's Ministry of Prime Industries (MPI). These standards require proven presence of minimum levels of four chemical compounds, in addition to DNA from Manuka pollen. 
What does this mean for you? It means that when you open a jar of Wedderspoon Manuka Honey, you know you are getting the best of the best - the highest quality, all natural Manuka Honey - straight from Mother Nature. Slight color variations in our honey reflect New Zealand herself, with each harvest telling the authentic story of a year's rain, sunlight, wind, and snow. 
Manuka Honey is a multitasking, nourishing, superfood with countless benefits and uses. It's a natural sweetener and can be used for cooking and baking. It's also a perfect final touch when scooped onto yogurt, fruit or toast. Manuka Honey provides natural energy and can be used in pre- and post-workout routines. Plus, it's one of our very favorite part of our beauty and wellness routines.
But, there's more than one type of Manuka Honey - want to know the difference between their uses? Look no further!  
Monofloral vs Multifloral Manuka Honey
As mentioned above, there are five indicators which must be present in the chemical and genetic makeup of honey for it to be considered Manuka Honey - both Monofloral and Multifloral Manuka Honey. The difference between Monofloral and Multifloral Manuka Honey is the required levels of these key indicators. Monofloral Manuka Honey must show a higher threshold for two of the five identifying markers. 
Wedderspoon is proud to uphold the MPI standards of identity for all of our raw Manuka Honey, in every jar, every time. 
Because Monofloral and Multifloral Manuka Honey are best suited for slightly different things, it's ideal to keep them both on hand in the pantry or medicine cabinet!
Best Uses for Monofloral Manuka Honey
Monofloral Manuka Honey, which requires a higher threshold for two of the five identifying markers of Manuka Honey, is a honey that is "wholly or mostly" from the Leptospermum scoparium (Manuka) plant. Monofloral Manuka Honey is best used for targeted wellness, in home health and beauty remedies/DIY recipes, in wellness tonics, and straight off the spoon every morning!
On a similar note, registered dietitian Kelly Springer, MS, CDN suggests drizzling Manuka honey on top of your oatmeal for a quick, natural, energy boost.

Manuka honey contains the highest number of flavonoids of any type of honey on the market. Flavonoids are packed with antioxidants which help to keep our immune system strong and fight against aging. A little bit of manuka honey goes a long way in delivering antioxidants to promote better health. Wedderspoon manuka honey products are a great option. They are made from guaranteed authentic, raw, unpasteurized manuka honey.

Springer recommends keeping on-the-go packs of Manuka honey from Wedderspoon (coming back in stock soon) with you at all times to enjoy whenever, wherever, and to help you stay full and focused.
If you are shopping for a gift for a loved one who is always trying new wellness and beauty recipes, our Monofloral Manuka Honey is perfect for them!
Here are a few of our favorite recipes for Monofloral Manuka Honey: 
Best Uses for Multifloral Manuka Honey 
Multifloral Manuka Honey is a honey blend that has a variety of plant sources, but a significant amount from the Leptospermum scoparium (Manuka) plant. Think of Multifloral Manuka Honey as your everyday Manuka Honey. This is the type best suited for food and dessert recipes, food pairings, or as a sweet treat for the kids.
If you are shopping for a gift for someone who loves to cook and bake, Multifloral Manuka Honey is perfect! 
Here are a few of our favorite recipes we suggest using Multifloral Manuka Honey in: 
Stock Up Now
We are proud to offer the highest quality Manuka Honey and Manuka Honey products to support your health and wellness. In addition to Monofloral and Multifloral Manuka Honey, we offer Immunity Gummies, Apple Cider Vinegar with Manuka Honey, Manuka beauty products, Manuka Drops and Pops, and more.  Show your friends and family that how much you care about them by gifting them a product that will boost their immune system this winter. Can't choose just one item? Check out our Bundles to get your favorite items at a discount!
Shopping in Canada? Your favorite Wedderspoon products, including the Manuka Honey used in this recipe, are available in our Canadian online store.