Raw Lemon Bars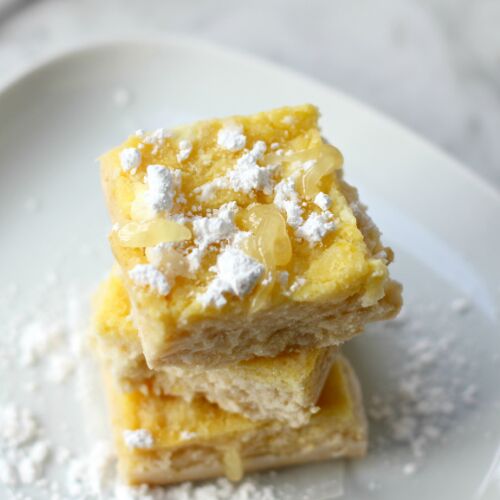 Looking for an easy treat to bring to the first cookout of the summer? Our Raw Lemon Bars are just what you're looking for! Sweet and tart, our lemon bars are best served chilled and with a refreshing drink!
Ingredients:
Crust
3/4 cup raw cashew
3/4 cup walnuts
12 dates, soaked
1 tbsp filtered water
1 1/2 tbsp hemp seeds
a pinch of sea salt
Lemon Topping
3 bananas

1/3 cup, plus 2 tbsp 

Wedderspoon Manuka Honey
3/4 cup coconut oil, melted
4 lemons, juiced
1/3 cup unsweetened shredded coconut
1 tsp turmeric
3 scoops collagen peptides; omit if vegan
Directions:
In a food processor, combine and pulse together nuts and dates. Do this for about one minute, until well combined.
Add water, hemp seeds and salt; pulse again until everything forms a paste-like texture. You should be able to take your fingers and press the mixture against the side of the processor, as it will hold together and resemble a crust.
Transfer mixture to a parchment-lined pan (7x7 or 8x8) and press it down onto the bottom and slightly up the edges.
Rinse and dry the food processor. 
Pulse together the lemon topping ingredients. This mixture should turn into a milkshake-like texture.
Pour mixture over the crust an top with powder coconut flakes if you'd like.
Cover the dish with plastic wrap and let it set in the freezer for 24 hours. 
When you are ready to eat the lemon bars, cut into squares with a knife after running the knife under hot water.
Store in freezer.
Shopping in Canada? Your favorite Wedderspoon products, including the Manuka Honey used in this recipe, are available in our Canadian online store.