Manuka Honey Unicorn Toast Creations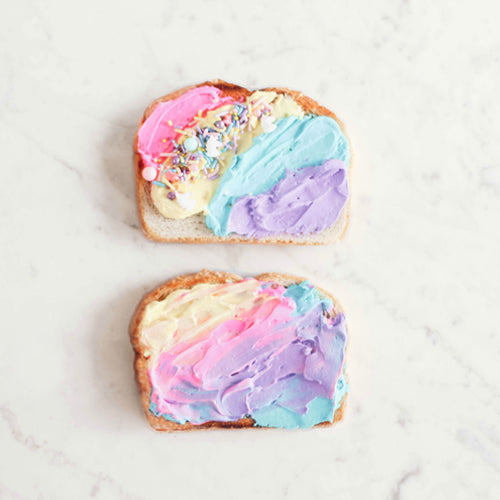 A sweet and colorful breakfast treat that looks as pretty as it tastes! Kids (and grownups) alike will love crafting their own unicorn toast treats made with Wedderspoon Manuka Honey and other superfood ingredients like beetroot powder and spirulina. Let your creativity be your guide and finish your kid-approved snack with a sprinkle of colorful toppings! Don't forget to post your rainbow-colored toasts online and tag @wedderspoonofficial so we can share your creations! 
Ingredients:
2 8oz blocks of cream cheese

2 tbsp 

Wedderspoon Manuka Honey
1/2 cup cashew milk
1 tsp vanilla extract
A pinch of salt
Optional: 4 different colors of food coloring or superfood powder (like spirulina, majik algae, turmeric, beetroot powder, acai powder, etc
Sourdough bread
Sprinkles
Directions:
Allow cream cheese to warm up to room temperature, and then add it to a large mixing bowl.
Mix in cashew milk, Wedderspoon Manuka Honey, vanilla extract and salt.
Continue mixing until light and fluffy.
Divide into four bowls and add food coloring (amount determined by personal color preference).
Prepare your desired number of pieces of toasts.
Spread each color individually to get the tie-dye, unicorn effect.
Add sprinkles for some extra fun! Enjoy! 
Shopping in Canada? Your favorite Wedderspoon products, including the Manuka Honey used in this recipe, are available in our Canadian online store.