Coconut Easter Eggs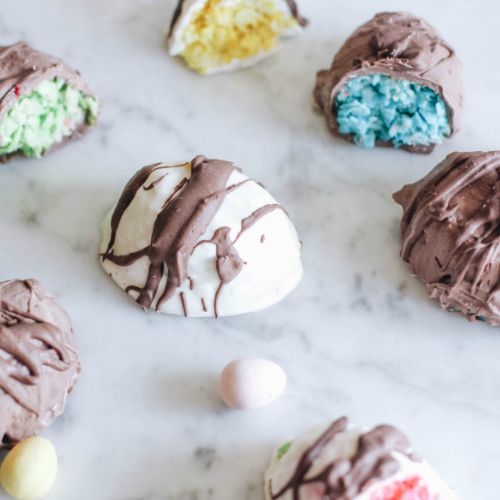 Your Easter celebrations may look a bit different this year, due to the circumstances, but that doesn't mean you can't still enjoy special Easter treats with your family. Our Coconut Easter Eggs are an easy, no-bake treat.
Ingredients:
Eggs
1 cup unsweetened desiccated coconut 
2/3 cup coconut flour
1/2 cup unsweetened vanilla almond milk
3 tbsp coconut oil
2 to 3 drops natural plant-based food coloring or superfood powders
Egg-shaped silicon mold
Chocolate Coating
5 oz of your favorite chocolate (we used dark and white)
Directions:
Add all ingredients, except the chocolate and food coloring, to a large mixing bowl or food processor. 
Combine with a spatula or blend on high speed until the mixture is consistent and in a crumble form.
Divide the crumbly coconut batter into four small mixing bowls. 
Add two to three drops of natural food coloring to three bowls - let one bowl remain without food coloring. 
Stir with a spoon to combine the food coloring evenly in the three bowls. Make sure you are using a different spoon for each bowl to avoid transfer of color from bowl to bowl.
Fill each egg in your egg-shaped silicon mold with the coconut batter. Press firmly with your fingers to compact the batter. Freeze for ten minutes.
Meanwhile, melt the dark chocolate on the stove or in the microwave. If using the microwave, heat in 30-second spurts, pausing to mix in between, until fully melted.
Remove the coconut eggs from the freezer, take them out of the silicon mold and place them onto a plate. Dip them one at a time into the chocolate, using 2 forks to hold the coconut egg into the mixture.
When fully covered with melted dark chocolate, place on a tray covered with baking paper. Repeat for each coconut egg until all are fully covered in dark chocolate.
Freeze for ten minutes until the chocolate is set. Drizzle extra chocolate on top if you'd like.
Store in the fridge up to one week in an airtight container, or in the freezer up to three months. 
Shopping in Canada? Your favorite Wedderspoon products, including the Manuka Honey used in this recipe, are available in our Canadian online store.