End of Summer Berry Salad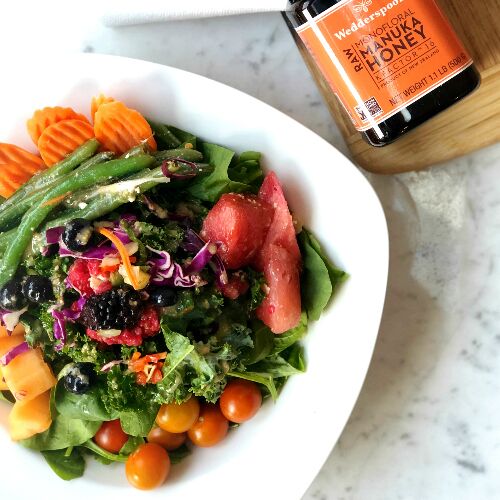 Now is the time to enjoy summer fruits as much as possible before they begin to be out-of-season. There's nothing more refreshing on a hot day than your favorite berries. We've got the perfect use for the abundance of berries you may have freshly picked, or stocked up on at the grocery store.
Ingredients:
Salad
2 cups kale
1 cup carrot chips
1/2 cup blackberries
1/2 cup raspberries
1/4 cup blueberries
1 cup cauliflower, roasted
1 tbsp Wedderspoon Manuka Honey
1/4 cup sliced almonds
Dressing
1 tbsp Wedderspoon Manuka Honey
1 clove of garlic, minced
1 tbsp olive oil
1 tbsp fresh parsley
Salt and pepper, for taste
Directions:
Prepare salad ingredients, minus honey and berries, in a large bowl. 
Mix dressing ingredients.
Massage dressing into kale salad and set aside.
In a sauce pan on low heat, add berries and honey until the berries soften and start to form a jam.
Once the jam has cooled, add it to the top of the salad and serve.