Mini Puff Pastry Franks with Spicy Honey Mustard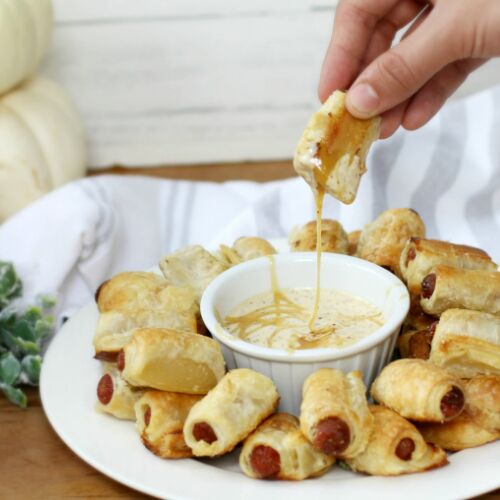 What's a party without finger food? Mini Puff Pastry Franks dipped in Spicy Honey Mustard will be a hit at any party. 
Ingredients:
Mini Puff Pastry Franks
1 pound package of frozen puff pastry
Flour, for dusting
1 egg, beaten
1 pound of mini hotdogs (about 30)
Spicy Honey Mustard
1 tsp horseradish
1 tbsp dijon mustard
1 tsp

 

Wedderspoon Manuka Honey
1 tbsp mayo
1/4 tsp garlic powder
Salt and pepper, for taste
Directions:
Preheat oven to 450 degrees fahrenheit.
Line baking sheet with parchment paper; spray with non-stick spray.
On a lightly floured work surface, roll the sheet of puff pastry into a rectangle measuring about 14 inches by 11 inches; cut lengthwise into seven 1.5 inch-wide strips; cut each strip crosswise into 4 rectangles, each about 3.5 inches long.
In a small bowl, whisk the egg and water together to create an egg wash; dip a finger into the egg wash and smear a small amount across the top edge of one of the pastry rectangles.
Place a mini hot dog on the other end and roll to enclose it; transfer to a baking sheet.
Repeat with the remaining hot dogs and pastry, arranging them on the baking sheet[s] in a single layer, without touching.
Brush the tops with the remaining egg wash and sprinkle with seeds, if using; transfer to the refrigerator and chill for 15 minutes.
Bake until puffed and golden brown, or for about 20 minutes.
Let them cool briefly before serving.
In a small bowl, mix together all Spicy Honey Mustard ingredients and set aside until ready to serve.  
Running low on your favorite Wedderspoon products? Stock up now during our Black Friday Sale. Use code BLACKFRIDAY30 to save 30% sitewide!