Patriotic Strawberry Bruschetta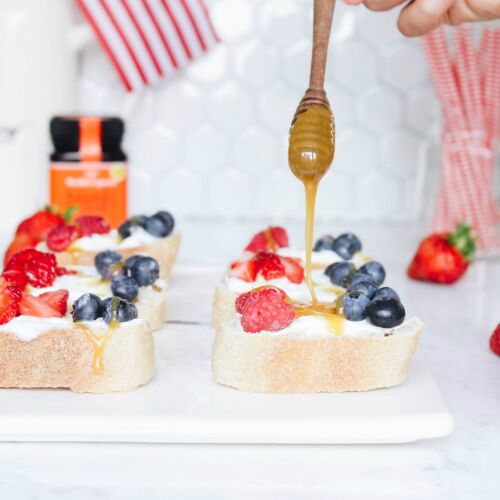 Our Patriotic Strawberry Bruschetta is a sweet way to say goodbye to the summer months. Celebrate Labor Day Weekend with this creamy and tart finger food, perfect for any party. 
Ingredients:
1 loaf of french bread, sliced into 16 pieces
1 cup of strawberries
1/2 cup of blueberries
1 cup mascarpone cheese
2 tbsp sweet cream butter
2 tbsp Wedderspoon Manuka Honey, and a bit extra for drizzling
1/2 tsp vanilla extract
A few pinches of himalayan sea salt
Directions:
Allow mascarpone to come to room temperature. 
Wash and slice strawberries into small pieces. 
Preheat oven to 350 degrees Fahrenheit.
Add sliced bread to baking tray and bake for 7 to 10 minutes, depending on your desired firmness for toast.
Once finished, remove and spread a bit of butter on each slice and sprinkle top with himalayan sea salt.
In a bowl, mix mascarpone, Manuka Honey, vanilla extract and salt together, using a mixer on medium speed for about 20 to 30 seconds to whip the mixture.
Spread the mixture onto each slice of toast. 
Top with strawberries, blueberries and an extra drizzle of Manuka Honey. 
Shopping in Canada? Your favorite Wedderspoon products, including the 
Manuka Honey
 used in this recipe, are available in our Canadian online store.