Peach Ginger Raspberry Bites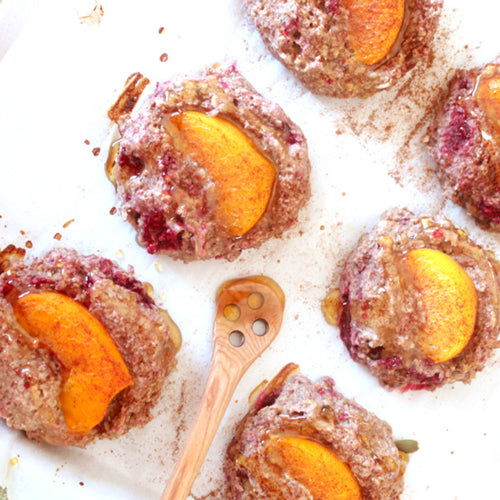 Ingredients:
8 oz oats
3 oz ground flax seed
6-9 oz coconut milk (or any milk or choice)
4 oz raspberries (we used organic frozen)
4 oz chopped pecans
1 large ripe banana
9 peach slices
1 tsp cinnamon
1/2 tsp ginger
Pinch of salt
Wedderspoon Raw Premium Fir Honey
---
Directions:
Preheat oven to 400°F
In food processor, grind oats, flax, cinnamon and salt until desired consistency
Add coconut milk and banana. The mixture should be thick like oatmeal. Add more coconut milk if needed
Fold in raspberries and chopped pecans
Form into bites. Press one slice of peach on top of the bites. Sprinkle extra cinnamon on top
Bake for 20 minutes or until desired softness
Allow to cool from oven for 5-10, then drizzle Wedderspoon Manuka Honey on top of each bite. Let honey sink into the bites. Enjoy warm or store in airtight container for 3 days.