St. Patrick's Day Rice Krispy Treats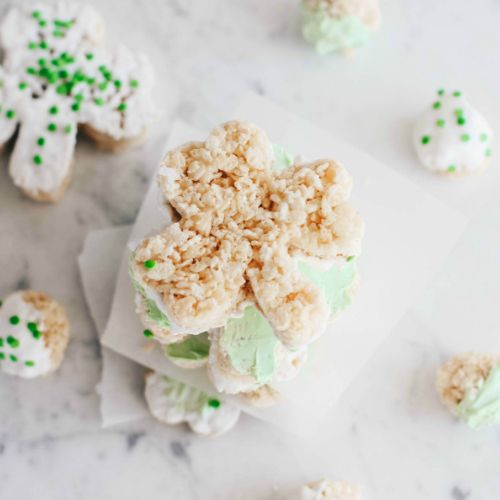 Enjoy a special, no-fuss treat this St. Patrick's Day. Our Rice Krispy Treats are sweetened with Manuka Honey and covered with a delicious chocolate coating. 
Ingredients:
Bars
3/4 cup unsalted butter (about 1.5 sticks)
2 10-ounce bags of mini marshmallows
12 tsp vanilla extract
A pinch of salt
9 cups crispy rice cereal
2 tbsp

 

Wedderspoon Manuka Honey
Manuka White Chocolate Glaze
      or
Directions:
Line a 9x13 inch baking dish with parchment paper and lightly grease it. Set aside.
Melt the butter over medium heat in a large pot. Once melted, add the marshmallows. Stir the mixture until the marshmallows are completely melted. 
Remove from the heat and immediately stir in the vanilla extract and salt. 
Fold the cereal. Make sure each piece of cereal is coated with the marshmallow mix.
Drizzle in Manuka Honey and make sure it is evenly mixed.
Transfer the mixture to the prepared pan. Using a rubber spatula (greasing it lightly helps), gently spread the mixture to fit the pan. Gently press the mixture down into the pan. Do not pack it down with force, just lightly press down so it is secure in the pan.
Allow treats to set for at least one hour at room temperature, and at most, one day. Cover lightly if leaving out for more than a few hours.
After setting, lift the rice krispy treats as a whole piece out of the pan using the parchment paper. Cut into squares or use a cookie cutter for desired shapes.
Cover and store leftover treats for up to three days at room temperature.
To make the chocolate coating, in a microwave-safe bowl, melt the cocoa butter and coconut oil, or, if using, the white chocolate melts.
Allow to cool to a point where it is still liquid but not too hot so when you add the Manuka Honey it is still raw, keeping the properties in place.
Mix the Manuka Honey in well, and then add vanilla extract.
Drizzle or dip your rice krispy treats. 
Top with sprinkles and allow white chocolate to set.  
Shopping in Canada? Your favorite Wedderspoon products, including the Manuka Honey used in this recipe, are available in our Canadian online store.