Strawberry Coconut Macaroon Hearts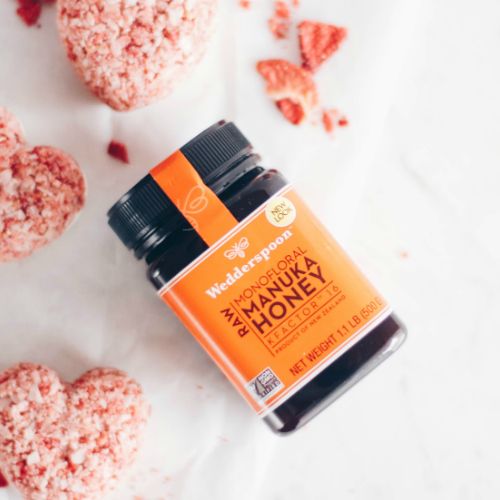 Chewy, sweet and appropriately colored for Valentine's Day, our Strawberry Coconut Macaroons make for a yummy and thoughtful treat, especially if made in heart-shaped silicon molds. With an optional white chocolate bottom, this recipe can be made as very sweet or less sweet. 
Ingredients:
2 cups fine desiccated coconut 
1 cup free-dried strawberry pieces
1/4 cup coconut oil, gently melted (see instructions below)
1 tbsp raw cacao butter, gently melted (see instructions below)
2 tbsp

 

Wedderspoon Manuka Honey
1 tsp lemon juice
1 tsp vanilla extract
A pinch of himalayan pink salt
Note: To gently melt the coconut oil and raw cacao butter, place them in a heat-proof bowl set over a pan of steaming water with the heat turned off. This method will ensure the ingredients remain in their raw state.
Directions:
Place the desiccated coconut, strawberry pieces, Manuka Honey, lemon juice, vanilla extract and salt into the bowl of a food processor and blend until combined. The strawberry pieces should be broken down into smaller bits but not turned completely into powder. 
Add the melted cacao butter and coconut oil and blend until just combined. The mixture should now come together when pressed.
Use a round measuring tablespoon to scoop up a spoonful of mixture, press it firmly into the spoon and flatten the top. Release the macaroon by pressing your thumb into one edge so that it pops out of the spoon. Or, use a silicon mold to create heart shaped macaroons.
Place the shaped macaroons into a storage container and into the fridge for 10 minutes to firm up. The macaroons can then be store in an air-tight container at room temperature for a couple weeks.
Optional: White Chocolate Bottom
Ingredients:
Either use one package of white chocolate melts (not raw melted) or:
1/3 cup coconut oil, melted and slightly cooled
2 ounces cacao butter, melted (about 1/3 cup)
1/3 cup dry milk powder
3 tbsp

 

Wedderspoon Manuka Honey
1 tsp vanilla extract
1 pinch fine sea salt
Directions:
If using white chocolate melts, melt the chocolate and pour into molds. Chill in fridge so that it sets. Place macaroon mixture in molds on top of chocolate.
If making white chocolate from scratch, put the melted coconut oil and cacao butter in a large mixing bowl. Whisk in the milk powder and Manuka Honey until well combined and smooth.
Whisk in the vanilla extract and sea salt.
Pour chocolate into molds.
Transfer to the refrigerator and chill to set. 
Shopping in Canada? Your favorite Wedderspoon products, including the Manuka Honey used in this recipe, are available in our Canadian online store.