Caramel Pumpkin Cream Chocolate Bars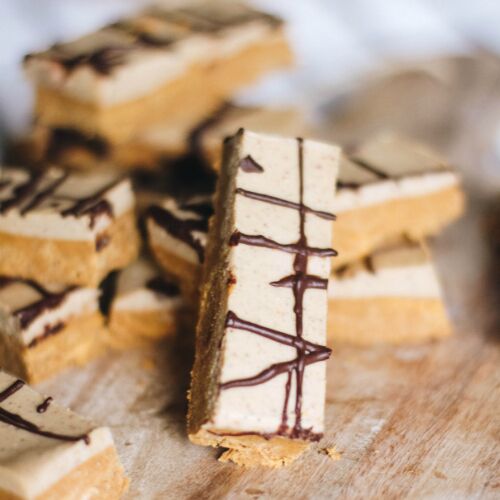 A seasonal treat so tasty, you'll want to eat this all year round! These bars combine all the best flavors of the season--pumpkin, cinnamon and chocolate.
Ingredients:
Pumpkin Center
1 cup cooked pumpkin puree
3 tbsp coconut sugar, ground in a coffee grinder
1 tbsp cinnamon
1 cup melted warm coconut butter
3 tbsp melted warm coconut oil
Caramel
2 tbsp maple syrup
1 tbsp almond butter (sunflower butter or tahini, if nut-free)
1/2 tbsp melted coconut butter
2 tbsp melted coconut oil
1 tsp hot water
Note: You can omit the caramel layer if you prefer)
Chocolate
3 to 4 cups dark chocolate, chopped.
1 tbsp coconut oil
Directions:
Stir all pumpkin center ingredients together in a bowl until well-combined and smooth. We recommend adding them to the bowl in the order that they're listed above so the oil and butter are added last and stay warm.

Spread the mixture onto a parchment paper-lined 8x8 pan.
Chill in the freezer while making caramel.
Whisk all caramel ingredients together until smooth. Spread on top of the pumpkin center. You will need to spread quickly (using a mini offset spatula), as the mixture will start to firm up.
Transfer the pan to the freezer and chill for at least four hours.
Once bars are firm, remove from freezer and cut them up.
Add chocolate and oil (no oil if using basic raw chocolate) to a heat-proof bowl. Set over a pot of hot water on the stove and gently melt on low heat. Dip the bars into chocolate and transfer to parchment paper-lined tray.
Let them set in the fridge until firm (likely about 20 minutes).
Shopping in Canada? Your favorite Wedderspoon products, including the 
Manuka Honey
 used in this recipe, are available in our Canadian online store.