Vegetarian Beet Burgers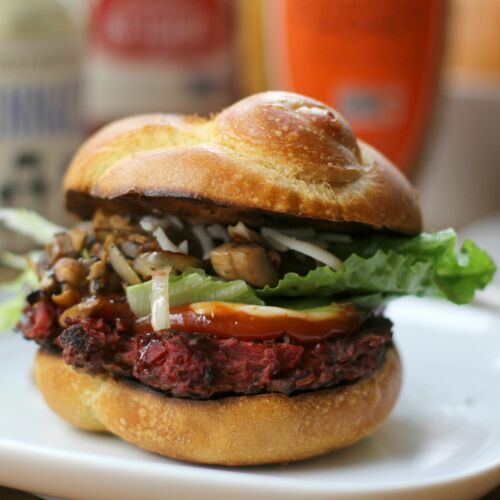 Our beet burgers are a delicious vegetarian burger option that can be spiced up with a variety of topping combos. 
Ingredients:
1 lb trimmed, scrubbed beets (about three medium-sized
8 oz white mushrooms, quartered
1 15-oz can black beans, rinsed and drained
2 tsp smoked paprika
1 1/2 tsp ground cumin
1 1/2 tsp garlic powder
1 tsp salt
1/2 tsp ground black pepper
1/3 cup water
1/4 cup coconut flour
Directions:
Preheat oven to 375 degrees fahrenheit.
Tightly wrap beets in foil and place on one side of a large rimmed baking sheet; bake for 35 minutes.
Meanwhile, place mushrooms on a piece of parchment paper (roughly half the size of the baking sheet); lightly spray with cooking spray and a sprinkle of salt.
Open oven and place parchment paper with mushrooms on other size of baking sheet; bake for 10 minutes longer.
Remove baking sheet from oven and allow mushrooms and beets to cool completely.
Peel the cooled beets and roughly cut into medium pieces.
Place beets and mushrooms in a large food processor; pulse until finely chopped (but not pureed).
Add the beans, paprika, cumin, garlic powder, salt and pepper. Pulse until beans are chopped (but not pureed).
Transfer mixture to a large bowl.
Stir the water until blended, and then stir in the coconut flour. Let stand for 10 minutes.
The burger mixture should be stiff enough to form into patties (if not, add more coconut flour, one teaspoon at a time).
Using a heaping 1/2-cup for each, form the mixture into 6 equal patties, about 1/4-inch thick.
Store the patties, or cook.
If cooking patties, preheat oven to 400 degrees fahrenheit.
Spray a large baking sheet with cooking spray.
Place patties on sheet, spacing evenly; spray patties with cooking spray.
Bake in preheated oven for 25 to 30 minutes, until heated through and slightly crispy at the edges.  
Notes:
Storage:
Store the burgers, individually wrapped in parchment or wax paper, in an airtight container in the refrigerator for 3 days or the freezer for up to 6 months.
Shortcut version:
Omit the roasting of the beets and mushrooms. Instead, use 1.5 cans (15 ounces) of whole baby beets (not pickled), drained, or 2 packages of ready-roasted beets (found in the produce department). Saute the mushrooms in a large skillet, in 2 teaspoons of oil, for 6 to 7 minutes or until softened and browned. Cool mushrooms completely. Proceed to main recipe to make burger patty mixture. 
Toppings:
We have three topping combo suggestions, and we recommend trying them all!
Wedderspoon Manuka Honey, carmelized onions, sauteed mushroom, arugula and Sir Kensington Mayo.
Vegan cheese, Sir Kensington Spicy Ketchup, Wedderspoon Manuka Honey and avocado.
Wedderspoon Manuka Honey mixed with Sir Kensington Dijon Mustard, bacon and romaine lettuce.