Introducing Wedderspoon Organic Raw Manuka Honey!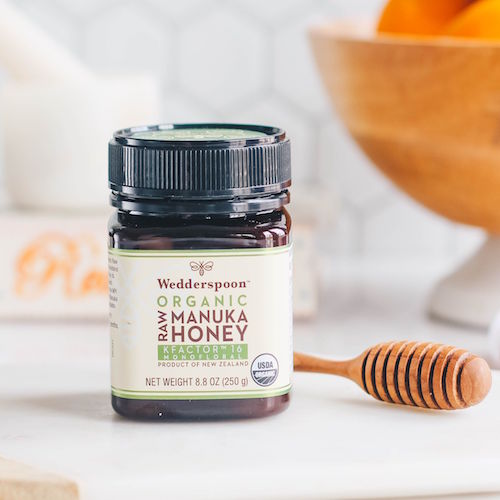 We are so excited to introduce you to the first and only USDA certified organic Manuka Honey in the U.S.!
Our Organic Manuka Honey is as rare as it gets. In the most remote, rugged mountain landscapes on New Zealand's South Island, our beekeeping partners carefully place hives and let the bees get to work. They spend weeks foraging off the blooming flowers of the Manuka bush nearby. Then the honey is collected, lightly creamed, jarred, and shipped directly to you - with all the goodness nature intended, intact. 
Certified Organic by the USDA, Non-GMO Project Verified, and certified free of glyphosate. Each batch is tested to meet or exceed the MPI standard for authentic monofloral Manuka Honey. 
Organic Manuka Honey Straight from the Source
We understand the importance of knowing where your food comes from. Not only do we love Manuka honey, we're also eager to share our knowledge about Manuka honey with anyone who will listen! We love sharing with you the process your Organic Manuka Honey undergoes before ending up in your kitchen.
Over the course of six weeks, hardworking and diligent bees feast on the nectar of the flowering Manuka bush, then return to their hives to create our delicious and rare Organic Manuka Honey.
Wedderspoon Manuka Honey is always fresh, never pasteurized, authentic Manuka - nurtured, packed and labeled in New Zealand and traceable from the hive to your home. 
If you have other questions about our Manuka Honey, we encourage you to check out our FAQ page.
From a Brand You Can Trust
We are dedicated to authenticity and traceability and believe Manuka honey should be more than the sum of its parts. We work tirelessly to make sure our Manuka Honey is the highest quality. It all starts with our strict rating system, KFactor, which ensures our Manuka Honey is always raw, unpasteurized and Non-GMO Project verified. Plus, our Manuka Honey is always guaranteed to meet or exceed the standard set by the Government of New Zealand. 
We are proud to offer a new certification to the list - USDA certified organic and are thrilled to say that our Organic Raw Monofloral Manuka Honey is the first USDA certified organic Manuka Honey in the U.S.
As an international brand, we are proud to support a variety of like-minded non-profit organizations and initiatives. We take pride in being involved with organizations that support the bees, the environment, and our communities. 
Make it a Lifestyle Staple 
We hear from many of our customers who love using Manuka in recipes as a sweetener or sugar substitute but that's just the tip of the iceberg! There are countless uses for Wedderspoon Manuka Honey, so we've shared a few of our favorites with you below! 
In warm water with lemon every morning
Off the teaspoon pre or post workout for an energy boost
As a superfood add-on to a smoothie or bowl of fresh fruit
As part of your regular skin care routine or as a special, targeted skin treatment (mixed with other ingredients)
As a hair treatment
Soothe discomfort from a sore throat
Whether you're using it in your morning tea, post-workout smoothie, salad dressing, on your skin, or simply eat it by the spoonful, Wedderspoon Organic Manuka Honey will surely become one of your favorite pantry staples for you and your family.
Shop Now
Try it out! Wedderspoon Organic Raw Manuka Honey is available on our website. We're offering free shipping in the 48 contiguous United States for purchases over $50.