A Pantry Staple: Using Manuka Honey 101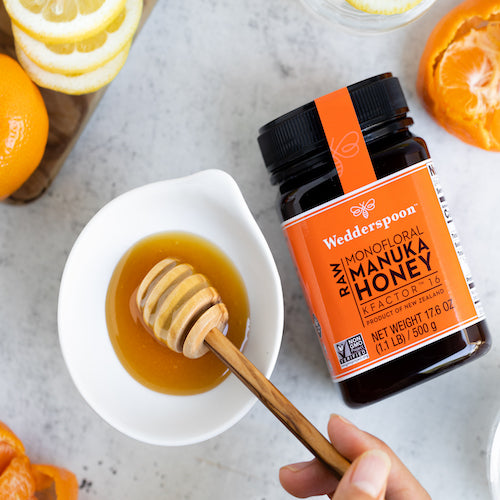 We all have those pantry items that constantly get pushed further and further back on the shelf because they're used so infrequently. You know, the ones that you forget you even have because you only use them once in a blue moon! Maybe it's an ingredient from a recipe you made once, (here's looking at you, complicated desserts!) or maybe it's something you thought you needed but actually, didn't. 
On the other hand, we have pantry items that are staples. Our tried and true friends of the kitchen we reach for constantly. These go-to items have so many uses, it's hard to keep them in stock (even when we're not cooking on the regular). They've become a part of our daily life. 
To us, our Manuka honey is one of these pantry staples. So, we wanted to put together a list featuring a few of the reasons why Wedderspoon Manuka Honey is the go-to, must-have, always being used, pantry staple. We want our Manuka Honey to be something you use on the regular, not something that gets pushed to the back of the pantry! So, let us share some reminders of the ways you can incorporate Wedderspoon Manuka Honey into your daily life. 
Back to the Basics: Right off the Teaspoon
Enjoy a spoonful of Manuka Honey each day to benefit from it's functional properties. Yes, this is a sweet treat you don't need to feel guilty about, and can actually feel great about! Manuka Honey is a superfood and has a multitude of benefits. Manuka Honey is incredibly soothing when taken off the teaspoon - keep this in mind in the fall and winter or the next time you have a scratchy throat! As if you don't have reason enough to enjoy a spoonful or two of Manuka Honey a day, also keep in mind that it can give you a little boost of energy and get you going in the morning or when you need a mid-day kick. The energy-boosting aspect also makes it perfect to incorporate into your pre- or post-workout routine.
As a Mixer
When it comes to using Manuka Honey as a mixer, there are truly endless possibilities. Manuka Honey is an ingredient you can mix into any kind of drink. Making a smoothie? Add Manuka Honey to sweeten it up and give yourself an extra boost of energy. Try our Vibrant Citrus Immunity Smoothie recipe or our Spicy & Sweet Detox Smoothie. Take your morning coffee to the next level by adding Manuka Honey-try our Dairy-Free Pumpkin Cold Brew recipe as you gear up for fall. Our Manuka Honey should not only be a staple in the pantry, but also on the bar cart! Check out our Bourbon Buzz Punch recipe for inspiration on how to utilize Manuka Honey in your adult beverages. Hosting a family-friendly party? We've got a suggestion for that too! Our Manuka Honey Lemonade & Infused Ice Cubes is the perfect mix of sweet and tangy and will be a hit with your friends and family of all ages. 
As a Sweetener 
Whether you're cooking dinner or baking your latest Pinterest-worthy dessert, Wedderspoon Manuka Honey has got you covered when it comes to sweetening. Swap the heaping spoonfuls of sugar or artificial sweeteners for this all-natural one. Remember that Manuka Honey is sweeter than sugar so you don't need to use a lot to get the sweet taste you're looking for! Our Coconut Caramel Cookies recipe is a great example of using Manuka Honey in desserts. Give Manuka Honey a seat during game-day by adding it into your apps and dips, like our Balsamic Bacon Cream Cheese Dip. Our Spicy Honey Chicken recipe demonstrates how Manuka Honey is great at balancing out the spiciness in your favorite recipes.
Are you already making a mental note of which recipes you want to try Manuka Honey in? Let us know in the comment section!
Incorporate Into Your Skincare Routine
The next time you want to pamper your skin, we suggest running to the pantry to grab your Wedderspoon Manuka Honey jar! Manuka Honey's properties make it beneficial to your skin.
Manuka Honey can also be a part of your regular beauty routine. Use it in face masks, scrubs and DIY-lotions. Try our Simple DIY Scrub or Moisturizing Manuka Honey Body Butter. Manuka Honey can help restore moisture, reduce redness and keep your skin glowing!
Stock Up Now
Are you sold on Manuka Honey? Can't wait to start using it on the daily? We suggest stocking up because you're going to go through it quickly! We can't wait to see the countless ways to utilize your Wedderspoon Manuka Honey. Share photos and tag us on social media so we can see!
Shopping in Canada? Your favorite Wedderspoon products, including the Manuka Honey used in this recipe, are available in our Canadian online store.