The Halloween Experience - Games, Tips, and Tricks for the Season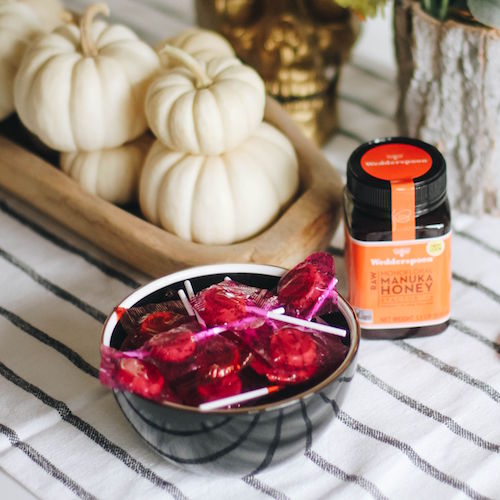 As we transition from summer to fall, and approach the next holiday - Halloween - we are reminded of the next batch of traditions and activities that won't be possible this year, or at least, not in the ordinary way. 
The best thing we can do right now is make the most of what we can control. And, what is possible this year, is a ton of fun and sweet memories with family. Or a socially-distanced hang with friends. Bring the fun and magic of Halloween season to your home this year with seasonal games, activities and treats from the safety of your home with those you love most. 
With our tips below, your family is sure to have a month full of fun!
Movie Marathons
As the weather gets cooler and the sun goes down earlier, what better way to enjoy a chilly night than cuddled up on the sofa with a cup of warm cider, your favorite blanket, and a Halloween movie? Throughout the weeks leading up to Halloween, many television networks premier Halloween movie marathons. Find schedules online and plan ahead so you don't miss your favorites. Or if you've discontinued cable TV, start searching for the classics anytime on your favorite streaming platform!
Perhaps pick a day of the week to set as your family movie night (we choose Friday, here) and commit to gathering in the TV room together each week to enjoy a movie. Or, choose a cooler weekend day when you can step away from work and spend the entire day watching movie after movie. 
At-Home Costume Party
Picking out costumes is one of the most exciting parts of the Halloween season, especially for kids. Just because school and community Halloween parties won't be taking place this year doesn't mean you can't dress up!
Safely shop online for costumes or DIY your own one-of-a-kind getup and plan an at-home costume party. Choose a family costume theme or go for individual costumes and celebrate Halloween safely at home. 
Play games, enjoy Halloween treats and candy, and take photos to memorialize your special costume party. If you want to get competitive, save the costume coordinating until the night of and challenge everyone to create their own costume on the spot using only items they can find at home. After you all reconvene, vote on the best costumes! 
Make your at-home costume party feel authentic with fun decorations, treat bowls filled with your favorite goodies, like Wedderspoon Organic Manuka Honey Pops and festive drinks, like Boo Berry Punch. Our Jack-O-Lantern Juice Smoothie is a healthy and delicious drink that can be enjoyed by all ages. 
Enjoy Seasonal Treats
Now is the time to indulge in all things pumpkin! While you're likely spending a lot more time at home, it's a great time to try out all those recipes you've been pinning on Pinterest but haven't gotten the chance to make yet. Anything with pumpkin, cinnamon and nutmeg is sure to fulfill your seasonal food dreams. Whether you're cooking by yourself or have little ones joining you in the kitchen, trying new recipes is a relaxing way to get into the holiday spirit.
Looking for ideas? Pumpkin Spice Donuts with Manuka Honey Brown Butter Glaze are delicious and best served fresh out of the oven. Our Dairy-Free Cold Brew with Collagen Cream makes a perfect morning treat. 
Socially Distanced Trick-or-Treating
Trick-or-Treating on Halloween night is an activity kids look forward to all year long. The joy of coming home and emptying your bucket or pillow case and sorting through all the treats you collected throughout the night is one of the sweetest parts of being a kid. 
While traditional trick-or-treating may feel unsafe this year, with enough planning, a socially distanced night of trick-or-treating can certainly be coordinated. Talk to your neighbors, family and friends that live nearby and get everyone on board with a safe and mindful night for the sake of the kids! 
A safe and easy way to do this could include pre-bagging treats for each participating child and leaving them out front for pickup. This way, there is no physical exchange of candy and a reduced risk of germ spread. Alternately, you could get creative and clip candy to a festively decorated fence using clothes pins, or set them out around your yard. When children arrive at each home, they can wave, say hi and admire costumes from a distance. When stocking up on candy for Halloween night, don't forget to order a few bags of Wedderspoon Organic Manuka Honey pops!
Backyard Festivities 
Hayrides, pumpkin patches and haunted houses are a staple of Halloween season. If you don't live close to any farms hosting socially-distanced and safe activities or outings, bring the festivities to your backyard!
You can purchase a few hay stacks and other seasonal decorations cheaply at local garden centers. Deck out your backyard to make it feel cozy and festive for a night of fun. Consider creating your own mini pumpkin patch by placing pumpkins throughout your yard and letting your kids 'pick' their own to carve or paint. The remaining ones can be used as decorations. 
Enjoy hot cider or hot chocolate, and sit by a bonfire and cook s'mores if you have a fire pit. If not, you can make s'mores inside over the stove! Bring some chairs outside, cozy up under a blanket and tell ghost stories. Don't forget your flashlight!
Another idea is to enjoy Halloween movies outside using a projector or even setting up a television outdoors. Put on your comfiest Halloween jammies and settle in for a spooky movie. 
We at Wedderspoon hope you enjoy a fun and safe Halloween Season!