Q & A with Rachel Mansfield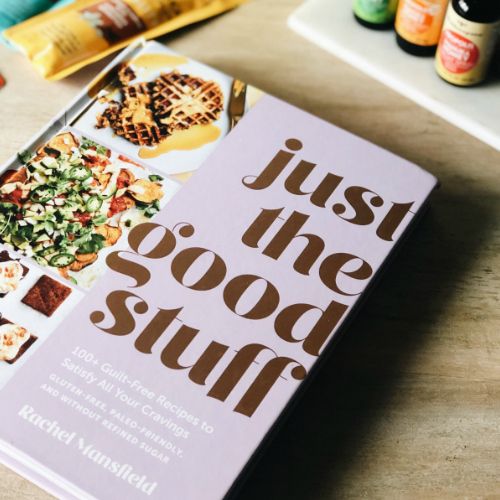 As Rachel Mansfield gears up for the launch of her new cookbook, Just the Good Stuff, she found some time to sit down and chat with us. Rachel is a longtime friend and partner of Wedderspoon and we are so excited for her and this cookbook. Wedderspoon is proud to be a pantry staple in her cookbook and featured in a recipe. Read on to learn a bit about Rachel's book, tour and why she loves Manuka Honey!
You're always sharing amazing recipes! What made you decide to write a cookbook?
"Aw thank you! I am so excited to finally have something tangible for my readers to enjoy and use in their kitchen. The cookbook is the evolution of my blog from the past 5 years. I also am someone who tries to limit screen time as much as I can (it is a bit tough at times!) and there is something about cooking from a book instead of staring at a phone screen or laptop that I love."
We are excited to be a staple in your pantry in Just the Good Stuff! How do you use Manuka in your daily life/recipes?
"I am so excited to have you guys in the book!! Manuka Honey is a staple in my recipes and life in general. Jordan (my husband) even keeps a bottle at his desk to add to hot water or tea when he feels like he is getting sick. I love using Manuka in my recipes as a delicious refined sugar-free sweetener. It is my go-to drizzle on top of anything with a little nut butter. Those squeeze bottles are the best!"
What are your favorite Wedderspoon products?
"Definitely the squeeze bottle of Manuka!"
What is your favorite thing about cooking/recipe development?
"My favorite thing is getting to eat and enjoy it all. We always have tons of food around and as someone who enjoys having dessert daily, it is a huge plus to have my freezer stocked at all times with my favorites. My least favorite part is not keeping a manicure for more than a couple of days...ha! Dishes on dishes to clean here."
Where are you headed on the JTGS book tour? What can fans expect at your events?
"I share all of the details over here on my blog! We kick off in NYC and then head to LA, Austin, Palm Beach, Nashville and Chicago. There will be a ton of good eats as well as amazing company and conversation. I love being able to hug and connect wth my readers in person. It is one of my favorite parts of what I do."