The Gummies You Need in Your Pantry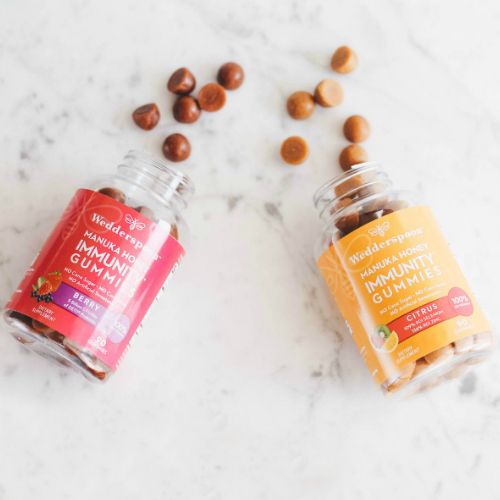 Gone are the days of arguing with your child after saying 'no' to sugar-filled, cartoon shaped gummy vitamins. Manuka Honey Immunity Gummies are about to change your lives for the better! 
All Natural
Wedderspoon Manuka Honey Immunity Gummies are the first on the market made without sugar, corn syrup, glucose or artificial sweeteners. They're made from whole fruits and Manuka Honey. These gummies are something you can feel good about keeping in your pantry and implementing into your family's daily routine.
Immune Support
We've paired Manuka Honey and whole fruits to create these gummies which filled with vitamins, minerals and nutrients to provide all-natural immune support. Each serving of (3) gummies provides nutrients like zinc, selenium and vitamin C to keep your body healthy and strong.
Great Tasting
These gummies are available in two great-tasting flavors - mixed berry and citrus - both made with whole fruits like apple, raspberry and kiwi puree. In fact, each bottle contains 10 servings of whole fruit! Manuka Honey makes these gummies sweet and tasty, ensuring that it will never be a battle to get your children to take their vitamins!
Safe for Families
Wedderspoon Manuka Honey Immunity Vitamins are safe for adults and children ages 4 and up. Stock up and keep these on hand for the entire family to get a daily boost of immune-system boosting supplements. 
Shop now!
Wedderspoon Manuka Honey Immunity Vitamins are available for purchase online now! 
Shopping in Canada? Your favorite Wedderspoon products, including the Manuka Honey used in this recipe, are available in our Canadian online store.