Wedderspoon Celebrates Bee Aware Month 2021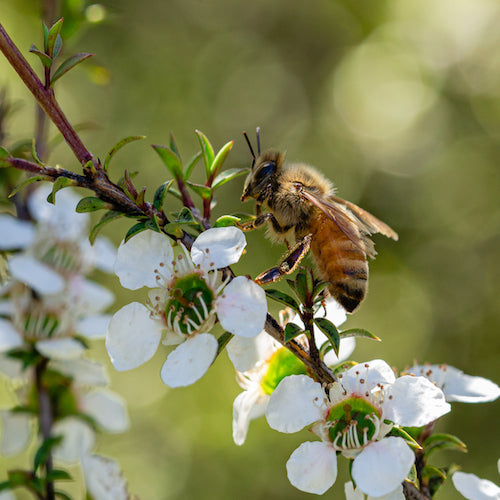 Apiculture New Zealand is the peak body representing the New Zealand apiculture industry. Apiculture is the technical term for beekeeping and the industry of raising bees and gathering honey. 
Apiculture New Zealand has named September as Bee Aware Month - a month dedicated to celebrating bees and learning about them and how to protect them. This special month has been recognized for twelve years now. The 2021 Bee Aware Month campaign is called "Feed the Bees" and focuses on the importance of bee-friendly plants and flowers. 
Learn more about the the Bee Aware Month campaign at apinz.org.nz.
Honey bees are an important part of our lives.
Did you know that almost 90% of plant species rely on honey bees to reproduce? This not only includes flowers and plants, but produce as well. Pollinators, like honey bees, help plants survive, thrive and reproduce, and without them, we would lose a major part of our food supply. 
Honey bees work very hard. They can visit up to 5,000 flowers per day! And, in addition to pollinating our plants and food supply, they also produce honey. 
Wedderspoon has a profound respect for our team of honey bees.
Our honey bees are an important part of the Wedderspoon team, and, their wellbeing comes first. Hundreds of colonies of Wedderspoon honey bees live in colorful wooden hives in the New Zealand valley we harvest from. These honey bees forage free-range style on naturally growing Manuka blossoms.
When it comes time to harvest the honey, our beekeepers are gentle and watchful, making sure to cause at little stress to the bees as possible. And, a portion of the honey is always left untouched, as it helps the bees ward off hunger pangs in the winter.  
Wedderspoon is proud to give back and support natural habitats.
Wedderspoon is a proud partner of the Rodale Institute, a non-profit 501(c) (3) organization dedicated to pioneering organic farming through research and outreach.
We sponsor a hive at the Honeybee Conservancy at the Rodale institute, which began in 2012 in response to the major health problems that have decimated the honey bee population in North America. 
Join us in celebrating Bee Aware Month. 
We encourage you to participate in Bee Aware Month by learning more about the role honey bees play in our ecosystem and in the agricultural industry. It's truly something to appreciate! Additionally, consider taking on the challenge of feeding the bees, as part of this year's campaign. Plant bee-friendly plants and/or flowers at your home, work, school or in your neighborhood, and encourage your friends and neighbors to join you. Together, we can make a difference in supporting our pollinators.