Your New Favorite Winter Wellness Staple: Propolis Sprays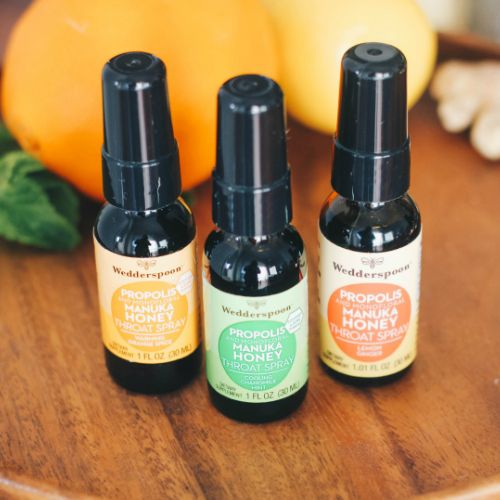 During the winter months it can be tempting to try all the over-the-counter products and medicines you can get your hands on–anything for some relief from cold weather symptoms that have you feeling less than great, right? But, perhaps you'd prefer to put something a little more natural into your body than what you find at the average drug store. Let us introduce you to our Propolis Sprays. 
Propolis + Manuka Honey
Wedderspoon Propolis Sprays consist of two whole bee food products – Propolis and Manuka Honey. Together, they offer synergistic benefits. They're antioxidant-rich and have anti-inflammatory properties. Our Propolis Sprays are soothing for the throat and promote oral health and natural healing. 
Available in Three Flavors
We've got a flavor for everyone! Available in Warming Orange Spice, Cooling Mint, or Lemon Ginger, our Propolis Sprays will not only sooth your mouth and throat, but they taste good too, unlike other products you may try. This is definitely a product you want to keep on hand! Stock up and keep your favorite flavor in your pantry and purse for convenience. 
Ready to try it out? Our Propolis Sprays are available online and are 50% off for a limited time.