A Drink for Everyone: Celebratory Cocktails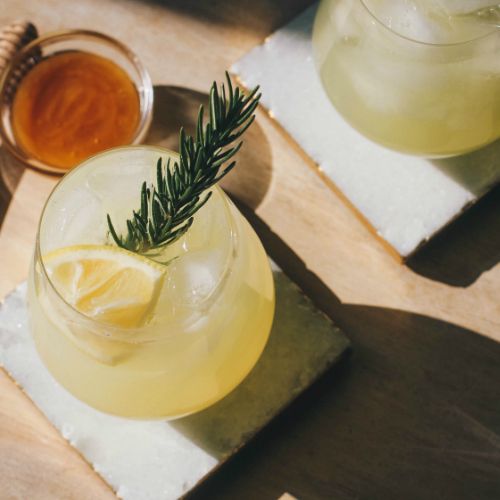 As a host, it's important to make sure you've got all your bases covered, which means having options that are appealing to all your guests. When it comes to drinks, we've got you! Whether your guests prefer sweet or tangy, alcoholic or non, it's safe to assume they will enjoy sipping on one of these delicious drinks.
The following two drink recipes have been created in celebration of the Just the Good Stuff: 100+ Guilt-Free Recipes to Satisfy All Your Cravings: A Cookbook book launch party in NYC. We are excited to celebrate this new cookbook written by Rachel Mansfield.
Bees Knees Cocktail (serves 4)
Ingredients for Drink Base:
6 oz vodka (180 ml)
3 oz freshly squeezed lemon juice (about 3 lemons)
3 tbsp ginger syrup
3 tbsp

 

Wedderspoon Manuka Honey
2 sprigs of rosemary (for garnish)
Ingredients for Ginger Syrup
20 oz ginger (460 to 570 g), peeled and roughly chopped to yield 1/2 cup juice
1/2 cup sugar (100 g)
Ingredients for Honey Syrup
Directions:
Remove the peel from the ginger. It's easiest to scrape using the back of a spoon. 
If you have a juicer, use it to juice the ginger (this is the preferred method). If you do not have a juicer, you can use a food processor and a nut milk bag or cheesecloth to squeeze the juice out of the pulp. 
After juicing the ginger, combine the ginger juice with an equal amount of sugar (so, 1/2 cup ginger juice and 1/2 cup sugar). Shake well to dissolve the sugar. Pour into a jar with a tight lid.
To make the honey syrup, mix 3/4 cup Manuka Honey with 1/4 cup hot water.
Combine the ginger syrup, honey syrup, lemon juice and vodka with a few ice cubes in a shaker. 
Shake vigorously for 15 seconds.
Strain into glasses and garnish with rosemary sprigs.
*If you use a juicer, you can use less fresh ginger, as the juicer will yield more juice from a smaller amount of ginger than juicing by hand will.
*You can also use fresh lemonade rather than lemon juice.
Berry Smash Mocktail (serves 2)
Ingredients:
1 can Blackberry Spindrift 
2 oz pomegranate juice

1 tbsp 

Wedderspoon Manuka Honey
1 basil leaf
1/4 cup frozen mixed berries, crushed
Directions:
Mix together pomegranate juice, Manuka Honey and Blackcurrant ACV. 
Add crushed ice and frozen mixed berries to a glass.
Pour juice mix over ice and berries.
Top with half a can of Blackberry Spindrift and garnish with basil leaf. 
Shopping in Canada? Your favorite Wedderspoon products, including the Manuka Honey used in this recipe, are available in our Canadian online store.