ACV Fruity Cocktail Recipes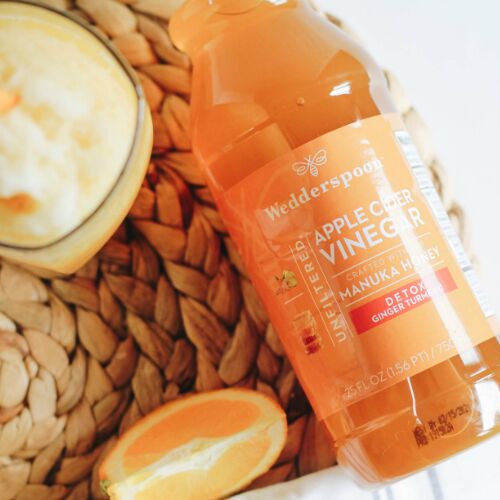 Who says alcoholic cocktails can't be *sort of* healthy? Add Wedderspoon ACV Concentrates to your bar cart to spruce up your drink recipes. Hosting a party? Try one of our ACV Cocktail Recipes below. Drink responsibly and enjoy!
Tequila Smash
Ingredients:
5 fl oz tequila

2 fl oz freshly squeezed lemon juice

5 fl oz freshly squeezed lime juice

3 tbsp 

Wedderspoon Manuka Honey
2 tb Wedderspoon ACV
1 can of sparkling water (can be flavored if desired)
8 to 10 mint leaves torn into small pieces
2 cups crushed ice
Extra Manuka Honey for garnish
Himalayan sea salt for the glass rims
Directions:
In a bowl, mix Manuka Honey with lime and lemon juice. 
Drizzle Manuka Honey on the rims of the glass and roll in salt.
Add ice to glasses, and add mint leaves.
Pour sparkling water 3/4 of the way up to the top of the glass.
Top with Manuka Honey and citrus juice mix.
Add 1 tbsp of ACV to each glass.
Muddled Blackberry Rum Cocktails
Ingredients:
1/2 cup of blackberries, and extra for garnish
1 can of club soda
A few basil leaves

2 tbsp 

Wedderspoon Manuka Honey
4 oz white rum
1 cup of ice
Directions:
Muddle the blackberries at the bottom of two glasses.
Pour ACV over top.
Mix in the Manuka Honey.
Add ice to the top and pour club soda over, filling the glass.
Garnish with basil leaves and blackberries.
Orange Turmeric Ginger Daiquiri 
Ingredients:
Directions:
Add ice and orange juice to blender and blend until smooth.
Add ACV, Manuka Honey and Rum. Continue blending until smooth.
Pour into two glasses and garnish with orange slices.
Shopping in Canada? Your favorite Wedderspoon products, including the 
Manuka Honey
 used in this recipe, are available in our Canadian online store.