Asparagus Salad with Eggs, Prosciutto and Manuka Honey Vinaigrette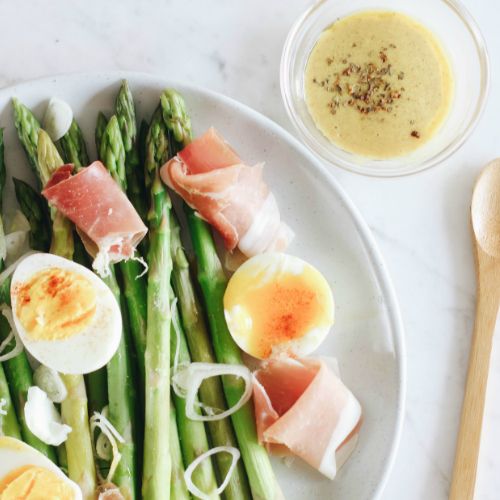 A flavorful and refreshing side item perfect for springtime. 
Ingredients:
Salad
24 stalks (or about 1 1/2 pounds) asparagus
1 shallot
3 large eggs (soft or hard boiled)
5 slices prosciutto
Manuka Honey Vinaigrette
1/8 tsp himalayan sea salt
1/4 tsp ground black pepper
1 clove garlic
2 tbsp dijon mustard

1 tbsp 

Wedderspoon Manuka Honey
1/2 cup olive oil (evoo)
1/4 cup white wine vinegar
1/4 tsp tarragon
Directions:
Put a large pot of salted water on the stove to boil.
Fill a large bowl with ice water and place next to the stove.
Boil the asparagus until it's bright green and just tender (about three minutes). Immediately transfer to the ice water with a slotted spoon.
Add eggs to the boiling water and cook for six and a half minutes. 
Meanwhile, remove the asparagus and use a clean kitchen towel to pat it dry. 
Transfer the eggs to the ice water and let stand until cool.
Combine tarragon, vinegar, mustard, Manuka Honey, garlic, pepper and salt into a blender. Process until the tarragon is finely chopped. With the motor running, drizzle in oil through the feed tube and process until creamy.
Cut the eggs in half. Arrange the asparagus and eggs on a large platter and drizzle with the vinaigrette. Top with shallot, prosciutto, basil and/or tarragon.
Shopping in Canada? Your favorite Wedderspoon products, including the Manuka Honey used in this recipe, are available in our Canadian online store.