Fourth of July Fresh Fruit Pops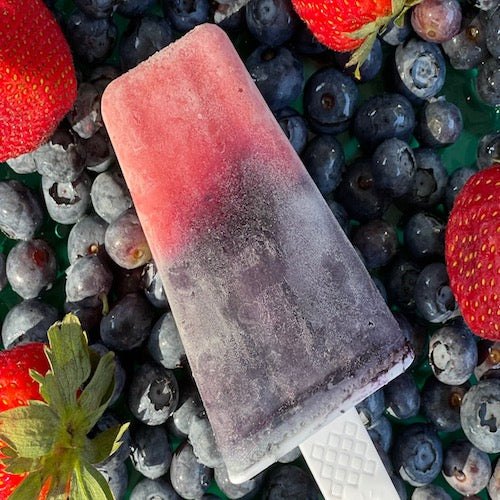 It's officially summer, which means sunshine, cookouts and light and refreshing food and drinks. What better way to enjoy a hot summer day than with an icy cold popsicle? Popsicles are fun and refreshing to eat, and, super simple to make! If you don't already have reusable popsicle molds, you're going to want to get yourself some! When you make your own popsicles, you can control the flavor and ingredients, making them healthier and more fresh than what you'd buy at the grocery store. The flavor options are endless, and, you can even layer flavors (which looks pretty cool, too!).
Celebrate the Fourth of July with delicious on-theme blueberry/strawberry popsicles. Made with fresh fruit, the color of these popsicles is all-natural, and they are just sweet enough, thanks to Wedderspoon Manuka Honey. 
This recipe is vegetarian-friendly. They're just as delicious as they are pretty, and both kids and adults with enjoy them. 
This recipe calls for minimal ingredients and won't take you long at all to make, however, the popsicles obviously need to be frozen, so leave yourself time to let them freeze before you plan to enjoy them or share with friends and family.
Ingredients:
Directions:
Add the strawberries, 1 cup of non-dairy milk and 1 tablespoon of Manuka Honey to your blender.
Blend on high until well-blended. 
Pour smoothie mixture into popsicle molds, filling each compartment halfway. 
Freeze for 20 minutes.
Add blueberries, 1 cup of non-dairy milk and 1 tablespoon of Manuka honey to your blender. 
Blend on high until well-blended. 
Remove popsicle mold from freezer and pour blueberry smoothie mixture into each compartment, filling to the top.
Put the popsicle sticks in each compartment and stick in freezer for a few hours, until completely frozen. 
Once frozen, enjoy on a nice, hot day!
Looking for other summertime recipes? Bug Juice is a kid-favorite, and our Broccoli Salad with Avocado Dressing is light and refreshing on a hot day,
Wedderspoon Manuka Honey is pantry staple, so make sure you don't run out! Stock up on your favorites.
Shopping in Canada? Your favorite Wedderspoon products, including the Manuka Honey used in this recipe, are available in our Canadian online store.