Superfood Cacao Nut Butter Chia Pudding with Manuka Honey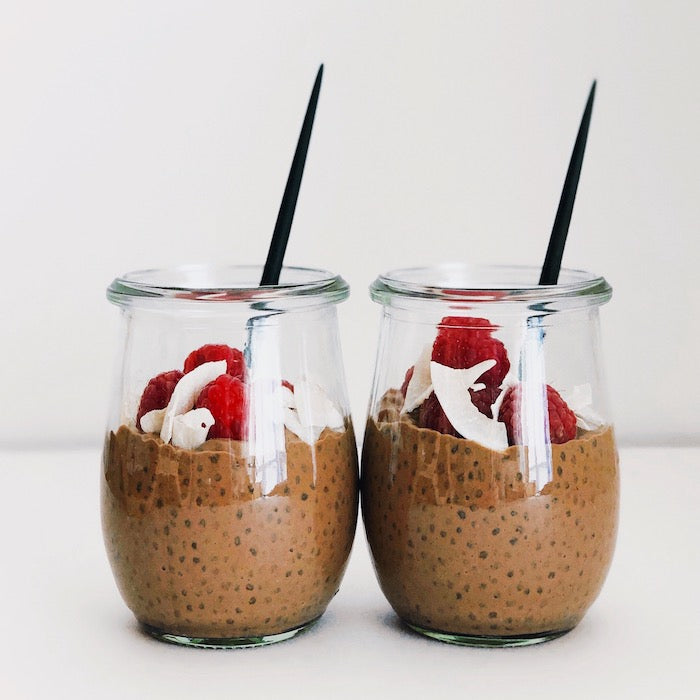 Chia Pudding is a breakfast option that almost seems like a dessert! It's thick, creamy and just naturally sweet enough that it tastes like a treat! The way chia pudding is made may truly seem like magic. When you stick your freshly whisked mixture in the fridge, it will be liquidy and the chia seeds will be floating. But, when you take it out of the fridge the next day, you will find a fluffy, totally spoon-able, pudding-like mixture. 
Our Superfood Cacao Nut Butter Chia Pudding recipe is filled with protein, omega-3s and energy-boosting nutrition. It's filling, but light - it will leave you feeling full, but not stuffed. It's the perfect breakfast to give you a great and energized start to the day. 
Nut butter, chia seeds and plant-based milk make this a filling meal, while cacao and Wedderspoon Manuka Honey make it nutritious, sweet and delicious. Top this chia pudding with your favorite additional ingredients to make it just right! 
This recipe is very easy to put together, and, can be made ahead of time, making your mornings simpler. Prepare Superfood Cacao Nut Butter Chia Pudding the night before, or even a few days before, and easily grab it from the fridge for an instant breakfast. Trust us, if you make this recipe tonight, tomorrow, you will thank yourself! It's transportable too. Take it to go, to the office or wherever your day may take you. 
The base of this recipe includes our Superfood Cacao Nut Butter Latte (link), which is also great on its own. Follow the directions below to make your own bowl of delicious chia pudding!
Ingredients:
1 Superfood Cacao Nut Butter Latte (recipe available here [link once recipe is live])
1/4 cup chia seeds
Wedderspoon Manuka K-Factor 16 Honey, to taste
Optional topping ideas: granola, berries and other fruit, bee pollen, toasted coconut, cacao nibs, coconut whipped cream, but butter, toasted nuts or seeds, drizzle of Manuka Honey
Directions:
The night before you want to enjoy this, combine chia seeds and the latte (recipe is here) in a jar or bowl and whisk together. 
Add Manuka Honey to taste.
Let the mixture sit for a few minutes, and then whisk again to remove clumps.
Repeat the sitting and whisking process one more time to ensure it's smooth and clump-free.
Cover and place in the fridge overnight.
When you're ready to eat, remove the chia pudding from the fridge. Give it a good stir and check the texture. Since chia seeds absorb all of the liquid, if the pudding is too thick, add a little more Sproud plant-based milk (unsweetened, original or barista) until you get the perfect texture.
To serve, top the chia pudding with your desired toppings and enjoy!
Chia pudding can be stored in the fridge for up to 4 days, which makes it a great meal-planning option. Make enough to last you a few days and you'll be set for a stress-free breakfast for the week!
Looking for other healthy, filling and delicious breakfast recipes? We suggest our Gluten-Free Maple Banana Oatmeal Bake with Manuka Honey, Spinach Pancakes with Fruit and Manuka Honey Topping, and Morning Glory Muffins with Manuka Honey Butter.   
Wedderspoon Manuka Honey is pantry staple, so make sure you don't run out! Stock up on your favorites.
Shopping in Canada? Your favorite Wedderspoon products, including the Manuka Honey used in this recipe, are available in our Canadian online store.