Building a Beautiful Holiday Charcuterie Board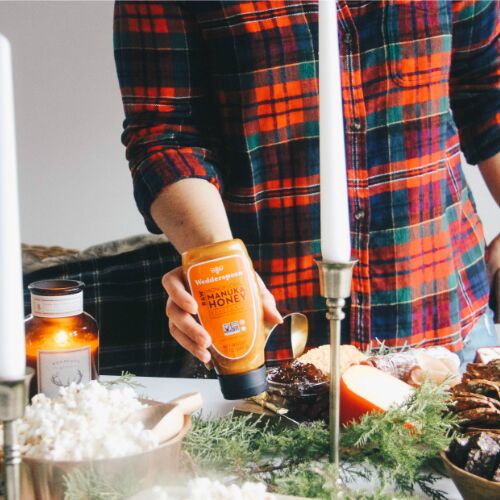 Charcuterie boards are a classic, fail-proof party menu item. You truly cannot go wrong with a beautiful and delicious assortment of meats, cheese, fruits, crackers and nuts. Building an eye-catching board is actually much easier than you may think. It's fun to curate an assortment of yummy snacks! Follow our below tips to create the perfect charcuterie board for all your holiday parties this season. We shopped at Whole Foods and found everything we needed and more to put together a fabulous charcuterie board.
Suggested Snacks
Navitas Organics:
Power Snacks - Coffee Cacao 
Power Snacks - Goji
Mulberries
Cocoa Nibs
Goji Berries
Maca Maple Cashews
Cacao Butter
Turmeric Almonds
Boomchickapop Pocporn
How To:
Step 1: Pick out rustic cutting boards, a tray, appetizer plates and cheese knives. Festive and pretty looking bases are important!
Step 2: Select a variety of cheese, including soft (like brie and goat), semi-soft (like gouda and cheddar) and hard (like aged gouda, parmesan and pecorino). 
Step 3: Curate a selection of meats, like prosciutto, salami, turkey, ham and bacon, which are all classic favorites. 
Step 4: Add the cheeses and meats, neatly arranging them around the tray, leaving space to add other snacks as well.
Step 5: Fill small dishes or bowls with condiments to allow guests to build small sandwiches or layered crackers. Mustard, fruit spreads and Wedderspoon Manuka Honey are go-to condiments! 
Step 6: Fruits, nuts and olives should always be added to a cheese board! They act as a fresh, juicy, sweet and savory palate cleanser. We recommend grapes, berries, figs, apples and raw almonds or pecans. Dark chocolate pieces are also a great option. Add all the finger-food snacks you desire. We suggest mixing textures and flavors.
Step 7: Add crackers and sliced breads to the mix. Rice and seed crackers are a great to include for gluten-free friends and family you may be serving.
Step 8: Spruce up the look of the board by adding fresh herbs and leaves. 
Bonus Tips:
When shopping for cheeses and snacks, ask to sample items (especially cheeses) before purchasing to make sure items pair well together. 
If you will be transporting your charcuterie board to the party location, slice up the meats and cheeses at home ahead of time. Wash the fruit, slice the bread and organize the snacks so that when you arrive at the location, all you need to do is arrange everything on the board.
Including one or two vegan, dairy-free cheese options is a great way to make sure everyone is included in a holiday celebration.
Need to stock up on your favorite condiments, including Manuka Honey? Wedderspoon is offering 25% off sitewide to celebrate the holidays! Shopping from Canada? Click here to see our latest promotions!