Celebrate Earth Day All Month Long: Bee-Friendly Garden Projects to Do with Kids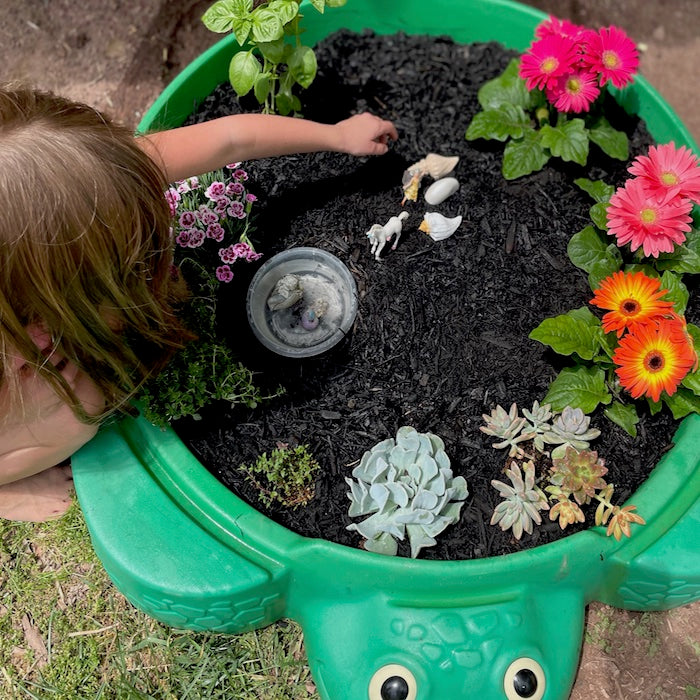 The first Earth Day was recognized in 1970. For decades now, this annual day has been celebrated as a way of honoring the environment and the protection of it. Earth Day began in the U.S., but today, it is recognized world wide.
Every year, on Earth Day, millions of people worldwide participate in a wide variety of projects with one goal - cleaning up, bettering and supporting mother nature and our environment.
There is no one way to recognize Earth Day. Every single person can make a difference, from doing small projects around your home and yard, to neighborhood or city-wide projects, to much larger-scale projects. Every little bit helps, and when it comes to protecting our environment, we all need to pitch in!
This year, we challenge you to expand your recognition of Earth Day. We encourage you to celebrate all month long, throughout April. Spend the month making environmentally-friendly changes in your everyday life, taking on projects in your home and community, and learning what you can do in the future to be kinder to our Earth. 
Not sure where to start? There is no better place to start than in your own backyard! Take on some bee-friendly garden projects this month. 
Bees are pollinators, and they support the growth of trees, flowers, plants and agriculture. Bees play a vital role in our ecosystem and lives, and by supporting and protecting them, we are also supporting and protecting the environment. 
Commit to No Pesticides
Not only are pesticides unhealthy for humans, pets and wild animals that may roam your yard, but they're also bad for our pollinators, including bees.
Though it may be tempting to use pesticides on your lawn and garden to keep things looking pristine and perfect, we encourage you to resist the urge and refrain from it. Make a commitment to the health and wellbeing of your family, pets and the environment by saying no to pesticides. 
Spend time researching the best, natural alternatives for your environment and goals, and make it a lesson for your kids. Talk to them about the impact pesticides have on the environment and our health, and help them understand why you are committing to not using them.
Make Wildflower Seed Balls
Varied diets are important for bees. Not only are wildflowers lovely to look at, but they are great for bees and other pollinators, too. 
By making and planting wildflower seed balls, you are encouraging the growth of a variety of flowers to grow together, making for a great flower patch for bees. For a wider impact, in addition to planting wildflower seed balls on your own property, consider making and gifting them to friends and neighbors to plant around their properties, too.
Wildflower seed balls are rather fun and easy to make, and a great activity for kids. Needed supplies for most types include dry red powdered clay, potting soil compost mix, wildflower seeds (make sure you research what types of flowers grow best in your environment), a large mixing bowl, water and gloves. Instructions can be found online.
Create Bees Homes in Your Backyard or Garden
Did you know that not all bees live in colonies or hives? Create a cute little DIY home for bees in your backyard or garden. 
There are a variety of ways to do this, from creating a bee board using old lumber and drilling holes into it, to creating stick or bamboo homes and more. With a simple internet search, you can find a lot of different, creative DIY options, that leave room for creativity and artistic touches. Many of these methods require minimal supplies, are easy to put together, and would make a fun project for kids. Think of it as building little hotels for bees!
Plant a New Garden with Bee-Friendly Plants
Not all plants are created equal when it comes to their ability to attract bees. There are some plants that are more bee-friendly than others. 
Take some time to research the most bee-friendly plants that can best survive in your environment, and set out to plant a new flower patch filled with them. If you're really feeling motivated, look into parks and open space in your community and check with your municipality to see if you are permitted to plant gardens in public spaces.
After making a list of the best plants and flowers to include, spend time at your local garden store picking out what you want to plant. Let your kids be involved in making the decisions and deciding where to plant. Encourage them to get dirty with you and teach them how to properly plant and maintain a garden. If you decide to grow from scratch - using seeds - it can be particularly satisfying for them to be involved in the entire process - start to finish, and watch as their plant babies come to life. 
Make a Bee Watering Station
Did you know that just like humans and animals, bees need water to survive? Yes, that's right, bees drink water! 
Add a pretty decorative piece to your yard or garden while helping the bees by making a bee watering station. 
Making a bee watering station doesn't have to be complicated or expensive! One easy way to make one is to use a ceramic pot and pot base.
Flip the ceramic plant pot upside down and sit in on the ground, or on a table or bench (ideally in a quiet and shady area). Place the pot base on top of it and fill with decorative stones, marbles or beads. Then, fill the container enough that only the very top of the stones, marbles or beads are exposed and uncovered, acting as a dry and safe landing spot for bees. And, voila! Make sure to monitor the water level regularly and fill or scoop out some water as needed, if it rains a lot.
Wedderspoon's Commitment to the Environment and Bees
We are proud to support a variety of organizations and initiatives that better the environment and support our pollinators. 
Wedderspoon sponsors a hive at The Honeybee Conservancy at the Rodale Institute, which began in 2012 in response to the major health problems that have decimated the honeybee population in North America. 
Learn more about the ways in which we support the community, environment and pollinators here.