Introducing Manuka Honey Digestive Gummies: The Importance of Gut Health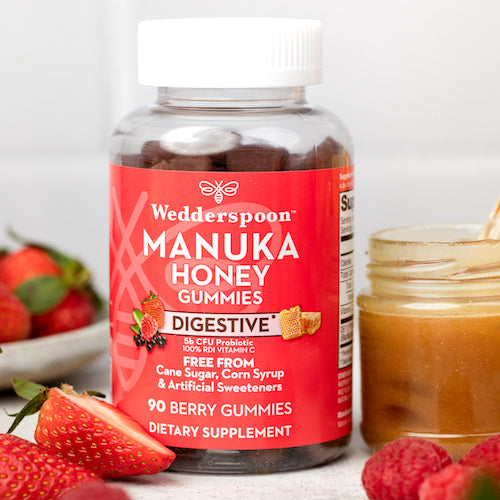 Since 2005, Wedderspoon has been committed to holistic wellness. We take pride in sharing the inherent superfood benefits of Manuka honey. Our Manuka honey,  sourced aand packaged in New Zealand, is of the highest quality. We strive to preserve the integrity of wild Manuka honey, taking many steps to ensure the quality our customers have come to know and expect over the years. 
The Wedderspoon brand has earned a reputation as a trusted source of premium, non GMO Project Verified products that are as consistently flavorful as they are pure. Our products are now available in 25,000+ doors nationwide, including multi-channel retail leaders such as Whole Foods Market, Sprouts, CVS and Rite Aid. 
Though pure Manuka honey was what created the Wedderspoon brand, we have proudly expanded and now offer a variety of Manuka honey-based products, from drops, to apple cider vinegar, Manuka beauty products and more. 
We are excited to introduce you to our newest product - Manuka Honey Digestive Gummies. 
Gut health is more than just the health of your stomach and digestive track. Your gut health impacts your entire wellbeing - from heart health, to immunity, brain function, mental health and more. Researches also believe that poor gut health can be a risk factor of many illnesses and diseases, including cancer.
One's diet has a large impact on gut health, so it's important to regularly eat a well-balanced diet. However, it's also a good idea to give your gut a little boost. That's where Wedderspoon Manuka Honey Digestive Gummies come into play. 
Two Distinct Formulas
Our new Manuka Honey Digestive Gummies are available in two distinct formulas. Both formulas are created with our authentic Manuka Honey to support healthy digestion. Manuka Honey is widely-known to assist with digestive health. Manuka Honey is paired with other all-natural, digestion-supporting ingredients to create these gummies.
Tropical Gummies
The Tropical Gummies are made with a proprietary mix of Prebiotic + DE111 Probiotic, plus premium chamomile and ginger to soothe and support optimal digestion. The flavor is sweet and fruity.
Berry Gummies
The Berry Gummies are made with Elderberry and DE111 Probiotic for digestive immune support. This formula is perfect for those who love berry-flavored things.
Free From the Bad Stuff
We are proud to share that our Digestive Gummies are free from artificial sweeteners, corn syrup, cane sugar, tapioca syrup and gelatin. And, they are vegetarian-friendly! The clean ingredients mean that these are a gummy vitamin you can feel comfortable eating yourself, and giving to your family and children.
Make Digestive Gummies Part of Your Daily Routine 
Ready to try them? Pick your preferred formula, or, try them both! 
In addition to digestive gummies, Wedderspoon also offers Immunity Gummies which are an easy (and delicious!) way to boost your immunity year-round. 
Shopping in Canada? Your favorite Wedderspoon products, including the Manuka Honey used in this recipe, are available in our Canadian online store.