The Dream Team: New Zealand's Wild Manuka Blossoms & Honey Bees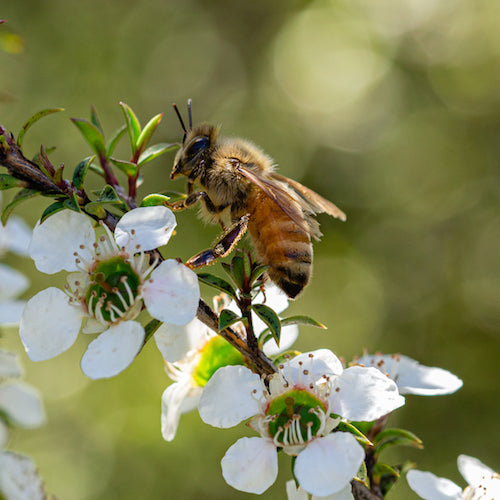 Have you ever glanced at the jar of Wedderspoon Manuka Honey sitting on your counter and wondered how exactly it came to be? How the delicious and genuine Manuka Honey in the jar got from New Zealand, to your counter, and all the steps in between?
Maybe you have wondered, and maybe not. But, we're here to give you answers!
Here at Wedderspoon, we take pride in our expertly crafted Manuka Honey, and we have our hardworking honey bees and the luscious New Zealand landscape to thank for it! Let's talk about how Wedderspoon Manuka Honey gets from the hive to your home. 
Why New Zealand?
We go to the source. The Manuka flower is indigenous to New Zealand. It's blush pink and flashy fuchsia blossoms appear less than six weeks per year, but the scrubby Manuka bush (the Leptospermum scoparium) is also a crucial piece in the process our bees carry out. 
We don't use cultivars or Manuka plantations for our harvest. Our honeybees feast on wild Manuka blossoms, nestled between the crystal waters of Lake Wakatipu and the majestic glaciers of Mt. Cook in New Zealand. 
No two harvests are identical, and each harvest is a true reflection of the New Zealand environment - including rain, sunlight, wind and snow. Slight Manuka Honey color variations occur depending on these conditions, and this is how we believe it should be! We don't use artificial coloring or processes to make each harvest of honey identical. We keep it natural. Just like Mother Nature intended. 
Manuka Blossoms and Our Team of Honey Bees
It's not just the location that's important, but the team, as well. Our honey bees are a huge part of the Wedderspoon team, we couldn't do this without them!
Manuka Honey comes from honey bees feasting on Manuka blossoms. The Manuka flower gives Manuka Honey unique superfood properties that you won't find in standard honey. 
Hundreds of honey bee colonies live in colorful wooden hives in the beautiful New Zealand valley we harvest from. Our team of honey bees forage free-range style on naturally growing Manuka blossoms. This process, which is a natural part of Mother Nature, means that your jar of Wedderspoon Manuka Honey is as pure and genuine as it gets.
The result of our honeybees feasting on the nectar of natural Manuka blossoms is a Manuka Honey rich in color, taste and living enzymes.
Harvesting Wedderspoon Manuka Honey
When it comes time to harvest, our beekeepers always make the health of the bee colonies a priority. They work with proud hearts, deft hearts and watchful eyes, being as careful as can be to disrupt the bees as little as possible. Raw comb is extracted from each hive as quickly and stealthily as possible to reduce honeybee stress.
And, don't worry, a portion of honey is always left untouched, as it's needed by the bees during the winter season. 
Wedderspoon Manuka Honey Testing, Packaging and Quality Standards
After being harvested by our beekeeper partners, the Manuka Honey travels just 40 miles to the Wedderspoon factory - a quick hop from our hives! 
Here, giant fans swirl warm air around the raw honey. The purpose of this is to heat the honey until it's just liquid enough to filter out any natural debris. We never boil or use fire to heat the honey, ever. In fact, the airstream is carefully calibrated and never exceeds the natural temperature of a hive. This means that the honey remains in an environment that feels natural, which helps it retain its inherent vitality and flavor. 
It is our priority to provide our customers with the most natural, unaltered and high quality Manuka Honey on the market. 
We take pride in harvesting, packaging, and labeling all of our Manuka Honey in New Zealand to ensure we are meeting the highest standards for quality and authenticity. 
Independent laboratory testing takes place before any jar of Manuka Honey is shipped. This testing ensures that every jar of Wedderspoon Manuka Honey meets or exceeds the strict scientific standards for genuine Manuka Honey, per guidelines from the New Zealand government's Ministry of Prime Industries (MPI). These standards require proven presence of minimum levels of four chemical compounds, in addition to DNA from Manuka pollen. 
Only after vigorous testing to ensure quality, is our Manuka Honey shipped to you. You're getting the best of the best - that is our promise to you.
Ready to stock up on more Manuka Honey? Shop for your favorites! And, remember, jarred Manuka Honey is not all that we offer! Shop for your favorite Manuka Honey wellness products, too, like Immunity Gummies, Apple Cider Vinegar with Manuka Honey, and Manuka Honey Pops.  
Shopping in Canada? Your favorite Wedderspoon products, including the Manuka Honey used in this recipe, are available in our Canadian online store.